Cyber insurance definition
Cyber insurance
can offer protection against first and third-party losses arising from security and privacy breaches. There are many different types of cyber insurance available, which can operate as a stand-alone policy or form part of a combined product.
Typically, cyber insurance will offer protection against a variety of financial losses and costs. In addition, some policies can provide assistance from cyber specialists to mitigate the damage of a cyber breach or attack.
If your business holds propriety or confidential data, holds customer or employee data, publishes electronic content, transacts business over the internet, or uses service providers for storage or processing of information, you shoulder consider cyber insurance for your business.
---
Cyber insurance coverage
Stand-alone cyber insurance policies will typically cover both first-party and third-party financial losses and costs, below we explain how cyber insurance coverage works:
First-party cyber insurance
These are financial losses and costs incurred by the business. Cyber insurance cover can include the cost of IT security, forensic investigation, legal advice, costs associated with notifying any individuals their data was stolen, cyber extortion, system damage, regulatory fines and subsequent loss of profits and increased costs of operating as a result of a security and privacy breach.
Third-party cyber insurance
These are financial losses and costs that result from claims against you. Cyber insurance cover can include legal costs incurred in defending allegations and pay damages from any award or settlement arising from a security or privacy breach and arising from infringement of any intellectual property rights. Including libel, slander or defamation via an electronic platform.
Cyber insurance definitions and exclusions vary from policy to policy, so it's best to work with an insurance broker who has the knowledge and expertise to identify the most appropriate cyber insurance to meet your needs.
---
What cyber insurance means for your business?
Cyber insurance can mean your business is better protected from a range of cyber risks including but not limited to:
Malware
Cyber insurance can offer protection from malicious software designed to cause damage to a computer or server. They can install themselves and exploit software vulnerabilities, which allows the cyber-attacker to record your activities and steal confidential data.
Ransomware
Cyber insurance can offer protection from malware that attacks your system and encrypts data, effectively locking you out of your own system. The cyber-attacker will then demand a ransom in exchange for the return of the data and control of your system.
Employee actions
Employee mistakes, deliberate actions or their manipulation, can easily negate your cyber security measures. Cyber insurance offers early assistance from cyber specialists to mitigate the damage, and protection against loss of profits and increased costs of working.
It is commonly accepted that cyber-attacks and security breaches are increasing in frequency and sophistication. AIGs Cyber Report identified their largest cause of cyber insurance claims were a series of systemic malware and ransomware attacks (i.e. WanaCry attack).
---
Why your business should consider cyber insurance?
The cyber risk to your systems and potentially sensitive information can come from a broad spectrum of threats, making cyber insurance increasingly important to protect your business.
The potential impact of a cyber-attack will often depend on the opportunities presented, the attacker's capabilities, in addition to their motivation. Often simple mistakes and potential vulnerabilities can provide the opportunities to gain access to your system.
Cyber insurance can form part of your defence and response to an incident. Preventing, detecting or disrupting the cyber-attack at the earliest opportunity will limit the impact and potential for financial loss and reputational damage.
Cyber-attackers can lay dormant for years until they identify a means to achieve what they want. Once the attacker has consolidated their presence on your system, they will be more difficult to identify and remove.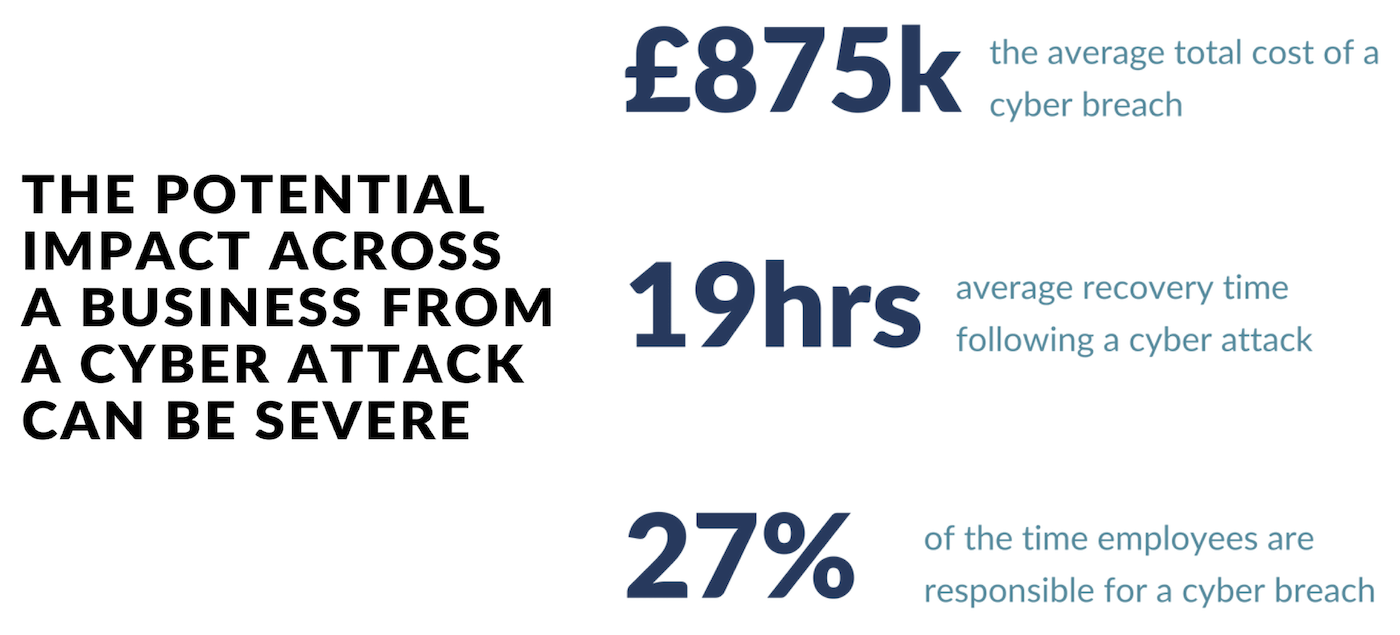 ---
Cyber insurance resource for UK business:
>
The National Cyber Security Centre
identifies 10 steps in order to protect your business against a cyber event.
> ActionFraud (National Fraud and Cyber Reporting Agency) offers an online reporting tool with The National Fraud Intelligence Bureau.
>
Cyber Essentials
is a basic training course aimed at reducing your business vulnerability to cyber attacks and security breaches.
> Cyber Security Courses for Business are free and aimed at helping staff understand online threats and how to protect businesses.
> Cyber Security Information Sharing Partnership (CiSP) is an industry and government initiative to exchange cyber threat information to reduce the impact on UK companies in real time.
Cyber insurance explained post by Get Indemnity™
This guide is for information purposes and based on sources we believe are reliable, the general risk management and insurance information is not intended to be taken as advice with respect to any individual circumstance and cannot be relied upon as such.