Professional indemnity insurance explained
Professional indemnity insurance can offer financial protection for defence costs and any damages awarded or settlement agreed. Below we provide some background about the product and explain how the cover works.
Note professional indemnity insurance definitions, insuring clauses and exclusions vary from policy to policy, therefore it's worth considering whether the specific cover meets your needs. All negligence and civil liability policies will contain a number of exclusions, so it is important to understand the extent of such exclusions and seek advice from a specialist insurance broker.
---
What can professional indemnity insurance cover?
Professional indemnity offers protection for defence costs and any damages awarded or settlement agreed. Cover can offer protection against:
Negligence
Negligence means any act, error or omission which does not meet an accepted reasonable standard, if you owe a duty of care to the claimant.
Civil Liability
Civil liability means an act, error or omission under a civil proceeding which you are held to be responsible that leads to the claimant suffering a financial loss.
Breach of Contract
Breach of contract means any unintentional breach of contract with whom you have contracted to provide professional service for a fee.
Defamation
Defamation means libel, slander, product disparagement, which harms the reputation of a person or organisation, including mental anguish or emotional distress.
Breach of Privacy
Breach of privacy means the violation of the rights of privacy of an individual, including the public disclosure of private facts.
Intellectual Property Infringement
Intellectual property infringement means unintentional IP infringement, including but not limited to infringement of copyright and plagiarism. 
---
How does professional indemnity insurance cover work?
Professional indemnity insurance can cover damages and defense costs as a result of a third-party seeking compensation. The defending of the allegation will in most claims represent a significant percentage of the overall cost.
Negligence, breach of contract, defamation, breach of privacy and intellectual property infringement are all common features of most policies, however in some instances (on a direct insurer basis) cover may be limited.
Make sure you spend the time to consider what your professional indemnity insurance covers because not all policies are equal. At get indemnity™ we can work with you to make sure you have adequate cover to meet your needs. 
---
Can you provide some professional indemnity claim examples?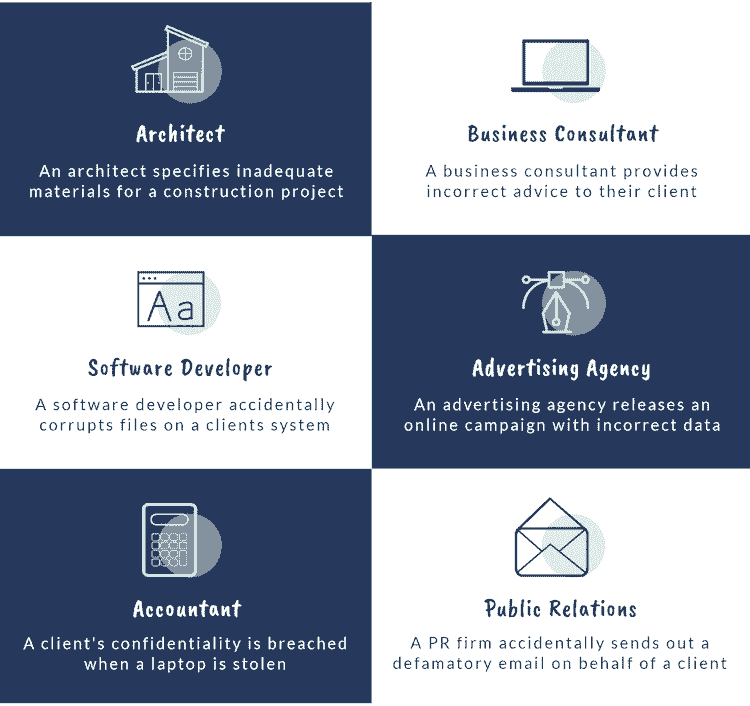 Professional indemnity insurance claims are by nature, low occurrence but high severity. A potential claim can have significant financial consequences, if you're unfortunate enough to become the target of an allegation. 
The insurance means financial security from having to pay defence costs and damages as a result of an allegation. We've produced a useful guide: Civil liability insurance - how to protect against professional negligence?
---
What is professional indemnity underinsurance?
Professional indemnity underinsurance occurs when businesses don't purchase sufficient amounts of cover and find themselves facing large compensation claims to put their customer back into the same financial position.
Purchasing insurance should always be considered where a business provides advice, professional, or technical services to their clients. Unfortunately claims can be very costly to defend and without protection could seriously impact your business.
---
What is errors and omissions (E&O) insurance?
Errors and omissions (E&O) insurance is an alternative name for professional indemnity or professional liability, however it is more commonly referred to errors and omissions within North America and certain classes of media liability insurance, such as T.V & Film.
If you take a closer look at the insuring clauses within the policy wording, the cover will protect against, acts, errors or omissions, hence the alternative name for the insurance protection.
---
Professional indemnity insurance should be considered by persons selling their skills and specialist knowledge based on their experience or qualifications.
Such people are relied upon as being experts in their fields and hold a greater level of knowledge and specialism in their subject matter than the average person.
Arrange a call back
 or call us on 
0345 625 0177
 to see whether your business needs cover to protect against compensation claims. 
Read more
---
The are a number of factors that can impact how insurers calculate your professional indemnity cost. The industry you work, services you offer, the professional fees earned will all impact their calculations.
At get indemnity™ we work with a wide range of insurers to ensure we can maintain competitive premiums for our clients. Some insurers prefer particular professions and will lower thier rates because they wish to write more business. Read more
---
The amount of professional indemnity insurance you decide to purchase will be determined by a number a factors, including whether you are required to meet any contractual requirements, regulatory requirements or professional memberships.
The second most important determining factors are the size of your business and the size of the contracts you undertake. However, you should remember you can never rely upon the limitations of liability under contract. Read more
---
This guide is for information purposes and based on sources which we believe are reliable, the general risk management and insurance information is not intended to be taken as advice with respect to any individual circumstance and cannot be relied upon as such.