Below we have produced a guide - how a professional indemnity policy works? Alternatively, we've produced a useful guide called: Who needs professional indemnity insurance? Explained 1O1
---
What types of professional indemnity policies are available?
There are two types of professional indemnity policies:
A 'Negligence' policy provides cover if you breach your duty of care, by way of a negligent act, error or omission. This is the most cost-effective professional indemnity cover because it is limited to the cause of negligence.
A 'Civil Liability' policy does not restrict cover to the nature of the wrongdoing. Professional indemnity cover may provide for: breach of contract, breach of duty of trust, conflicts of interest, breach of statute law and defamation. These may not necessarily arise from negligence and therefore may not be covered under a negligence policy.
Most civil liability policies will contain a number of exclusions, so it is important to understand the extent of such exclusions and seek advice from a specialist professional indemnity insurance broker.
---
How do professional indemnity policy limits apply?
Your professional indemnity policy limits will operate on either:
Any one claim & in the aggregate: which means the amount insured under the professional indemnity policy is a maximum for the entire policy period, no matter how many claims are made; or
Each & every claim: which means the amount insured under the professional indemnity policy applies to each and every claim made (or a series of claims arising from any single event).
It is common for civil liability insurance policies to operate on an each & every claim basis, whilst negligence policies typically operate on an any one claim & in the aggregate basis.
Please note your industry regulator may require your business to purchase a specific type of professional indemnity policy limit. Please seek advice from your specialist PI insurance broker.
---
How does a claims made professional indemnity policy work?
Professional indemnity works on a claims made basis, whereby the current policy will respond to the claim made, irrespective of when the work was completed (provided that such services did not occur before the retroactive date).
The trigger of a claims made policy is when you become aware of circumstances that may give rise to a professional indemnity claim and report the circumstance to the insurer.
If a management consultant provided a service in 2016, but was not aware the client was seeking damages against them until 2018, the professional indemnity claims made policy in 2018 will be available to respond to the claim (see below).
It is important you notify the insurer of the circumstances immediately and within that policy period. Late notification may prejudice negotiations and entitle the insurer to repudiate the claim.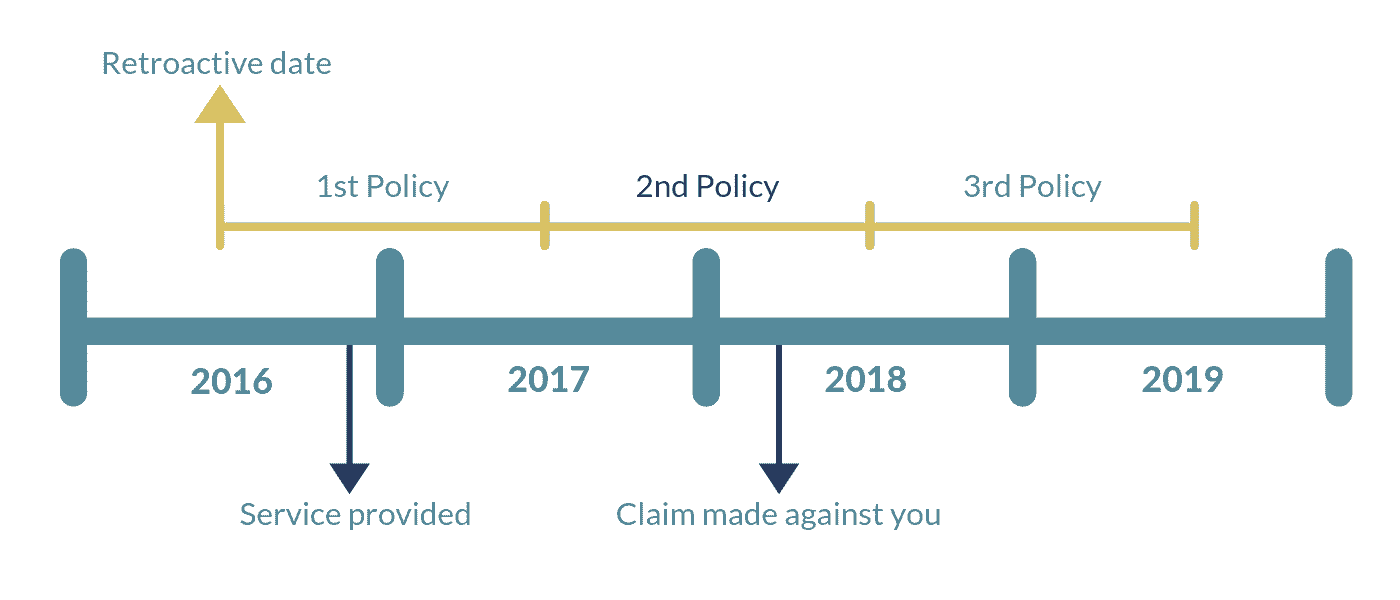 ---
What is a professional indemnity retroactive date?
For a claim to be covered it must arise from services performed by the insured on or after the retroactive date (detailed on your policy schedule). This will typically be the first date from which you purchased professional indemnity insurance.
If your retroactive date is 'unlimited' or 'N/A', professional indemnity cover will apply for actions from the date the company was incorporated.
Where for instance, the retroactive date is 01/06/2016, your professional indemnity policy will cover services offered on or after the retroactive date. If an allegation arises from services provided in 2015, your professional indemnity policy would exclude the claim made against you, even though the claim is made against you in 2017.
If you would like a better understanding of liability principles, such as long-tail liability, please visit 
liability insurance
.
---
What is professional indemnity run-off cover?
Run-off cover, also known as an extended reporting period, allows claims to be reported to the insurer after the professional indemnity policy has expired, to ensure you are protected from services already provided.
Run-off cover should be considered whilst the period your clients could make a claim against yourself is reduced, typically by the statute of limitations (civil wrongdoing in tort is six years).
There are a number of situations, such as an acquisition, or your business has ceased trading, that may cause you to purchase run-off cover
At
get indemnity
™ we're proud to be a specialist
professional indemnity insurance
broker. If you would like to discuss your individual requirements, please contact us.
How does PI Insurance work? Posted by Get Indemnity
This guide is for information purposes and based on sources we believe are reliable, the general risk management and insurance information is not intended to be taken as advice with respect to any individual circumstance and cannot be relied upon as such.