---
What is employers liability insurance?
Employers liability insurance (otherwise known as EL insurance) will protect against claims arising from injury or illness of your employees.
The business insurance will pay legal costs incurred in defending allegations and compensatory damages arising from any judgment, award or settlement.

---
Do employers have a duty of care?
All employers have a duty of care to provide a safe working environment for their employees. If you fail and an employee is injured, or becomes ill, as a result of your negligence, you may be required to pay compensation.
It is worth noting employers are responsible not only for their own acts of negligence, but also for those of their employees.
---
Is employers liability insurance compulsory?
Employers liability insurance is one of the few types of business insurance which is compulsory under UK law.
Both employers liability insurance and public liability insurance play an important role ensuring you have the ability to meet any compensation awards.
---
Can you provide some employers liability claim scenarios?
Below are common employers liability claim scenarios, with slips, trips and falls the most frequent:
|   |   |   |
| --- | --- | --- |
| Slips, trips and falls | Exposure to hazardous chemicals or materials | Falling objects |
| Faulty equipment | Inhalation injuries | Burns or scalds |
| Co-worker actions | Working at hight or underground | Muscle strains handling or lifting heavy objects |
| Crashes and collisions | Repetitive strain injury | Other hazard objects |
What UK regulation protects employees?
Health and safety law places a responsibility on employers to ensure 'so far as is reasonably practicable', the health, safety and welfare of workers.
The Health and Safety Executive
 (HSE) and local authorities in the UK are responsible for enforcing legislation. 
The HSE provides simple guides to your requirements under UK law. Whereas the full legislation can be found under the Health and Safety at Work Act 1974.
It is supplemented by more detailed regulations, with some applying to specific industries, types of premises or specific health and safety issues. Employers health and safety regulations are further detailed by 
WorkSmart
 a website by the national trade union centre.
---
Health and Safety key figures
Key figures released by the Health and Safety Executive show the extent that people in the UK have suffered from a work-related illness or injury at work in 2017/18.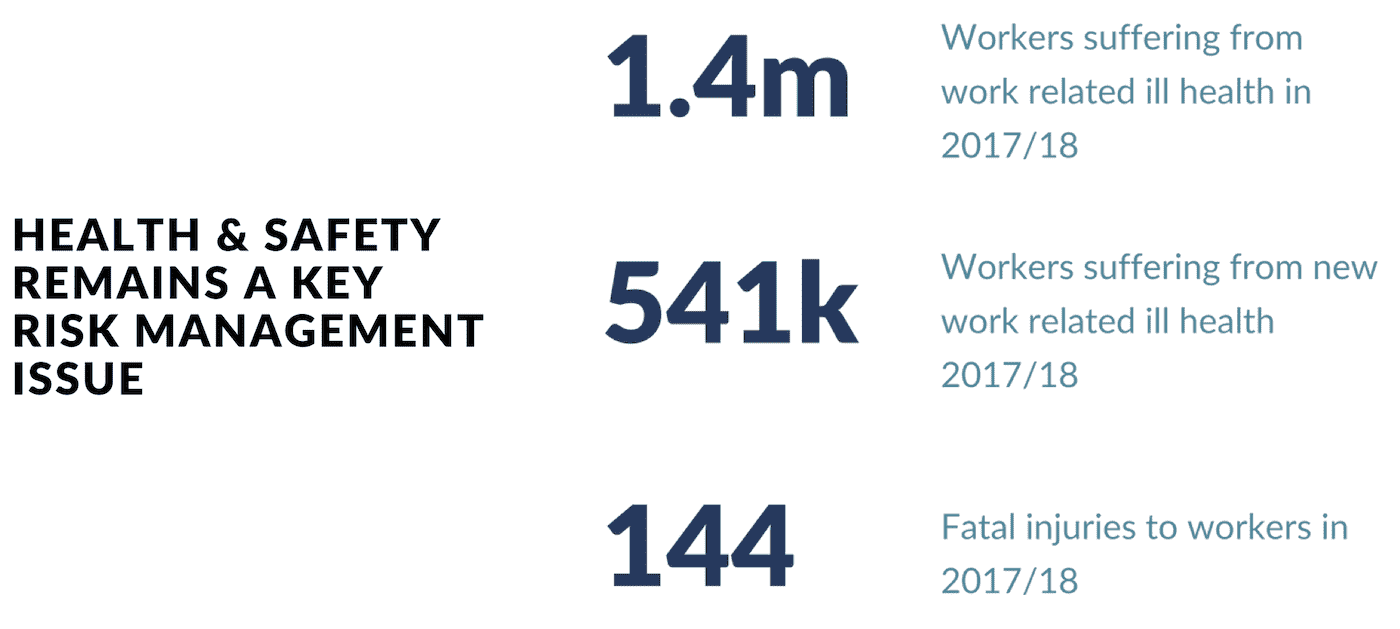 Employers liability insurance means your organisation is protected from having to make significant compensation payments as a result of injury or illness of your employees.
---
Are we required to carry out risk assessments?
The Health and Safety Executive requires employers to conduct suitable and sufficient
risk assessments
.
Companies with five or more employees are required to undertake a written risk assessment that includes a systematic examination of workplace risks.
The HSE have produced a 
Health and Safety Made Simple
 guide to assist employers with their obligations. 
Besides carrying out a risk assessment, employers need to:
1)  make arrangements for implementing the measures identified;
2)  appoint competent people to help implement the arrangements;
3)  set up emergency procedures;
4)  provide clear information and training to employees; and
5)  work together with other employers sharing the same workplace.
---
How to manage your employers liability risks?
Employers liability risks can be mitigated by implementing a 
risk management
program that:
>  communicates policies and procedures;
>  provides effective training and support;
>  implements effective risk assessments and risk reviews;
>  maintains protective equipment, clothing and machinery;
>  monitors and reports on H&S effectiveness; and
>  applies a disciplinary procedure for negligent employees.
The HSE offers templates and general advice on how to assess and control risks in the workplace.
To compare employers liability insurance cost, please complete our
online application
.
---
How much can personal injury claims cost?
Personal injury compensation can include financial recompense for any expenses incurred, loss of earnings, possible loss of future earnings, pain and suffering.
Even if your business was not the cause of alleged injury or illness, the costs in having to defend an allegation in court can be substantial.
The method used to calculate 
personal injury claims
 to account for future investment returns, means that in an environment of low interest rates, personal injury claims are costing more.
The discount rate was amended in March 2017 (and again in August 2019) by the Lord Chancellor has had a significant impact on how damages are calculated over a long period.
With the percentage linked to returns on low risk investments, the rate reduction reflects that claimants may be financially dependent on their lump sum, often for long periods.
Employers Liability Claim Example: An Employee suffers a broken back and brain injuries after an accident, they are likely to require significant long-term care: A claim paid before March 2017 (+2.5% rate) equals £4.9m, whereas a claim paid after August 2019 (-0.25% rate) equals £9.8m.
The example above identifies what a significant impact the change in law has had on the potential cost of personal injury claims.
---
How much employers liability insurance do we require?
The minimum limit as described by the
UK government website
must be for a £5 million limit. However, the majority of companies typically purchase a £10 million limit or more.
Zurich have identified 6 steps to choosing Employers Liability limits. Prudent businesses and organisations are increasingly purchasing an Excess of Loss policy to provide increased limits for employers liability, public liability and fleet insurance.
---
Who does employers liability insurance cover?
An employee is typically defined as 'any person who is under a contract of service with the policyholder. It can also include self-employed persons, hired persons, students, and voluntary workers.
The injury or illness must have been caused in connection with the policyholder's business activity. However, coverage can also include first aid, medical, ambulance, fire and security services and maintenance.
Employers liability insurance definitions do vary and it's worth considering the terms and features to consider what cover best meets your needs. 
---
Does employers liability insurance cover contractors?
Within the
construction
industry, subcontractors who work under your supervision and are on your payroll, are legally considered employees and will typically be included.
Whereas, bona-fide subcontractors who work under their own supervision will not typically be covered by your employers liability insurance. Cover however, can be provided under your public liability insurance.
If you have specific requirements, please let your business insurance broker know and they can ensure the scope of your coverage.
---
What is a 'claims occurring' insurance policy?
Employers liability insurance works on an occurrence basis, whereby the policy period in which the loss occurred will respond, irrespective of when the claim is made.
This is required because some diseases and subsequent claims may not become apparent until years after the employee was exposed to unsafe conditions.
For example, if an ex-employee becomes ill from asbestosis while they worked for you in 2001, but claims years after when the disease is identified, the occurrence policy in 2001 will respond to the claim.
The above ensures if a business becomes insolvent or is acquired, there are no disputes as to who is responsible. For gradually developing diseases, such as asbestosis, the insurers who covered the Employers Liability risk over the development period will share the cost.
---
Are we required to display our employers liability insurance certificate?
Employers must display, at each premises, a certificate of employers liability insurance to demonstrate the employer has the required insurance.
Subsequent amendments to the regulation now allow for a certificate to be made available electronically, potentially through an intranet site, provided all employees have access to it.
If you do not hold valid employers liability insurance, you can potentially be fined £2,500 for each day you are not insured. Whereas, you can potentially be fined £1,000 if you do not display your employers liability insurance certificate.
The Health and Safety Executive offers a brief guide for employers regarding the Employers Liability Compulsory Insurance Act 1969.
---
What is the Employers Liability Tracing Office (ELTO)?
The
Employers Liability Tracing Office (ELTO)
 is an independent not-for-profit company. Created to provide claimants with access to a database of policies to help find the insurer of their former employer.
In addition, the Financial Conduct Authority maintains a list of all insurers responsible for employers liability insurance claims.
---
How to compare employers liability insurance cost?
Employers liability insurance quotes are available by completing our online application, along with a number of other business insurance covers.
At
get indemnity 
we have access to a number of wholesale insurers that can offer a range of property and
liability insurance
quotes.
Commonly purchased under a package insurance policy designed for your business activities. We continue to see stable market conditions for employers liability insurance, driven mainly by an abundance of insurer capacity.

---
This guide is for information purposes and based on sources which we believe are reliable, the general risk management and insurance information is not intended to be taken as advice with respect to any individual circumstance and cannot be relied upon as such.