---
What is employment practices liability?
Employment practices liability insurance, otherwise known as EPL Insurance, offers the company and their directors, officers, employees, protection from claims arising from a range wide range of employment disputes.
The business insurance can be offered on either a stand-alone basis or combined under management liability insurance. If you would like a better understanding of liability principles, such as duty to defend or indemnification, please visit liability insurance.

---
What does employment practices liability cover?
Employment practices liability will protect against financial losses and costs in the defence of a claim for an alleged wrongdoing.
Typically, an employment practices liability policy will afford cover to:
|   |   |   |
| --- | --- | --- |
| Wrongful or unfair dismissal | Sexual harassment | Workplace harassment |
| Discrimination | Refusal to promote | Wrongful demotion |
| Negligent reference | Negligent evaluation | Invasion of privacy |
| Retaliation against an employee | False imprisonment | Wrongful infliction of emotional distress |
Why purchase employment practices liability?
Employment disputes can cost significant management time and resource. Even with established HR policies and procedures to mitigate exposures, the company and managers can find themselves embroiled in bitter and costly disputes.
The recent rise of the #MeToo campaign is acting as a driver for more women to actively speak out against allegations of sexual and workplace harassment. A cultural shift in the workplace may leave some employers spending significant resource to deal with such issues.
Dealing with employees can be highly emotive and if internal procedures aren't followed, you can leave yourself open to successful employment tribunal claims.

---
Why is the employee relationship important?
How the employee interacts with managers and other members of staff has a significant influence on the success of the relationship.
Positive employee engagement has been shown to enhance business outcomes. Therefore, employers should pay close attention to all the mechanisms that impact employees.
However, even with the best intentions, well-trained managers, effective HR policies and procedures, employee relations can invariably breakdown.
---
How do insurers underwrite your EPL insurance?
Below are key considerations when insurers underwrite your EPL insurance:
The size, financial stability and experience of your business measured by number of employees, wage roll, turnover, net worth and years established.

Exposure to different jurisdictions: USA & Canada are high hazard exposures, with France & Germany carrying an increased exposure compared with the U.K.

Nature of your activities: third-sector; education sector; solicitors; healthcare; professional sports clubs; and call centres; are all high hazard industries to operate.

HR policies and procedures including: background checks and reference procedures; written policies on discrimination, harassment, discipline and termination.
---
Where can we find advice for ACAS?
ACAS
 (Advisory, Conciliation and Arbitration Service) is a non-departmental public body of the U.K government. It provides free and impartial information and advice to employers and employees on all aspects of workplace relations and employment law.
ACAS Free On-Line Learning modules provide a useful e-learning resource for anyone wanting to refresh their knowledge and improve their approach to employment relations issues.
ACAS Helpline Online is a database of frequently asked employment queries and has been developed to help both employees and employers. Free impartial advice is available through the ACAS Helpline on 0300 123 1100.
---
Are employment tribunal fees now unlawful?
On 26 July 2017, the Supreme Court declared that tribunal fees (up to £1,200 per claimant) were an unlawful interference with the common law right of access to justice.
This has resulted in a 39% increase in the number of cases that have gone to an employment tribunal. Of these 26,012 cases were were referred to the employment tribunal in 2017/18, compared with 18,647 claims in 2016/17.
With little to no downside to bringing an employment tribunal claim, the scrapping of fees has led to an influx of claims. The Ministry of Justice recently suggested they may consider bringing fees back at a lower level, but to date there have been no further updates.
---
What are the average awards from employment tribunals?
Maximum and Average Awards for Unfair Dismissal and Discrimination in 2016/17 in the Governments Official Statistics were identified as: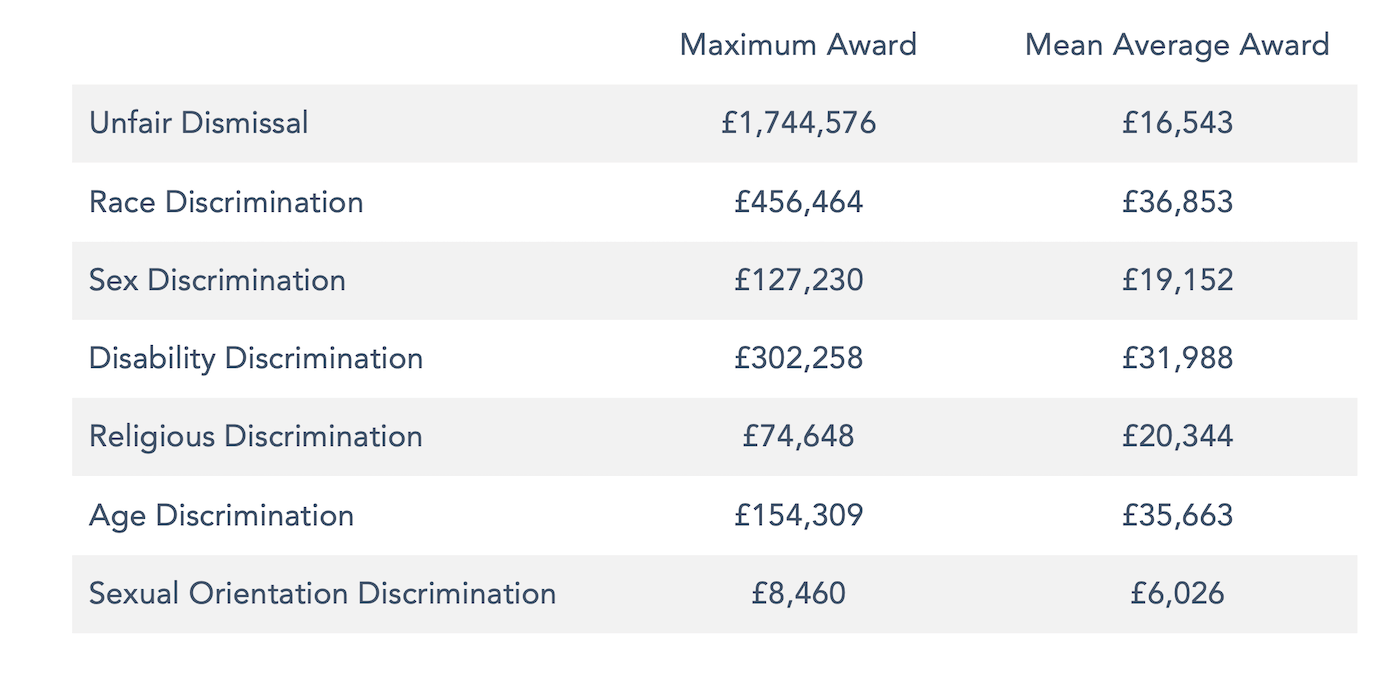 Please note this is not a true reflection of the total cost to the employer, as defence costs and resources to mount a defence are not included.
Usually the highest award goes to a discrimination claim where there is no limit on compensation. However, the unfair dismissal award was most probably in a case where the limit does not apply (i.e. whistleblowing or dismissal for raising a health and safety issue).
---
How do redundancies and restructuring impact our exposure?
Strategically reducing the number of employees at your business will increase your exposure to employment claims. Redundancies and restructuring require sensitive handling to ensure fair treatment of employees.
Redundancy legislation is complex, and employers need to understand their obligations, including employees' rights and the correct procedures to follow.
---
Are we exposed to a third-party liability?
Companies and employees have an exposure to harassment or discrimination claims from third parties, including but not limited to customers and suppliers.
Whilst these circumstances are rare, some employment practices liability policies will afford the cover under their policy for no additional premium.
---
What limits and deductibles should we purchase?
The limit and deductible you purchase will depend on your perception of the exposure and how much you are prepared to spend to mitigate the risk.
Claim trends in the UK suggest that employment practices liability circumstances are reported more frequently with lessor amounts sought, as opposed to high severity claims resulting from the legal framework.
However, consideration should be made to defence costs, which can amount to a significant percentage of the total costs of the claim.
---
What are the market conditions for EPL insurance?
At get indemnity we are starting to see a 'hardening' of the market for employment practice liability insurance. The impact of Covid-19 on specific industry sectors has meant some insurers are seeking to increase premiums as a result of claims activity.
However, there remains competition within the market for companies with good controls and procedures, that are not planning to make significant redundancies.
If your business has a high hazard exposure or significant claims paid over the last 12 months you should engage with your employment practices liability insurance broker early to ensure a satisfactory renewal.
---
How to apply for EPL insurance?
To apply for EPL insurance, please complete our
online application
and select
Management Liability Insurance
. Sub-limits will typically be offered as standard, if increased limits of liability are required, we can make those requests to insurers. 
If you would like to consider stand-alone EPL insurance, please
contact us
to discuss your requirements.

---
This guide is for information purposes and based on sources which we believe are reliable, the general risk management and insurance information is not intended to be taken as advice with respect to any individual circumstance and cannot be relied upon as such.