---
What is professional indemnity insurance?
Professional indemnity Insurance (PI insurance), also known as professional liability insurance, protects against the failure to exercise reasonable skill and care in the provision of professional or advisory services.
The business insurance will pay legal costs incurred in defending allegations and pay damages arising from any judgment, award or settlement. 

For further information read: Civil liability - how to protect against professional negligence?
Compare
professional indemnity insurance quotes
 to benchmark whether you continue to purchase the most appropriate cover with our
online application
.
---
Who needs professional indemnity insurance?
Many professions are required to purchase professional indemnity as a regulatory requirement or to meet contractual conditions.
However, PI Insurance should be considered for any organisation where advice, professional, or technical services are offered to a client. Allianz have produced a helpful guide identifying Ten Reasons for PI Insurance.
At
get indemnity
we are a specialist professional indemnity 
insurance brokers
and have the capacity to identify a range of solutions from the wholesale market.
---
What is a professional service?
A professional service is intangible, offered by persons selling their skills and specialist knowledge based on their experience or qualifications.
Such people are relied upon as being experts in their fields and hold a greater level of knowledge and specialism in their subject matter than the average person.
Traditional professions include: Accountants; Architects; Engineers; Financial Planners; Solicitors; and Surveyors.
However, over the last 15 years there has been a greater emphasis on non-traditional service providers purchasing professional indemnity.
Non-traditional services include: Advertising; Advisory; Consultancy; Contractor; Design; Financial Services; Inspection Services; Intermediary Services; Technology Services; Marketing; Mediation; Project Management; Software Development; Specification; Testing; Training; Translation; and Valuations.
---
How to obtain the most competitive PI insurance?
During the application process you should breakdown your business activities and turnover with as much detail as possible.
If your turnover is made of professional fees and other income, such as products sold, it is important to clearly separate because insurers should only take into consideration your professional fees when calculating your premium.
By offering complete and detailed answers in the application for insurance, underwriters will have greater capacity to offer competitive premiums. Additional information that identifies how your business represents a better risk than your industry peers will assist with obtaining further discounts on your insurance premium.
This can include the provision of compliance procedures, risks assessments and a complaints register, to demonstrate your risk adverse nature and high level of due diligence in the management of risk.
---
What are insurers contractual preferences?
Contractual conditions can offer valuable protection against civil litigation. The application of contractual conditions will identify your awareness and willingness to manage your risk.
Professional indemnity insurance cost and availability can be impacted if your contracts with clients do not contain:
>  a description of services;
>  limitations of liability; and
>  a consequential loss exclusion.
Insurers prefer if you offer a performance standard no greater than reasonable care and skill. Preferred contracts will not include: guarantees or warranties; liquidated damages (promise to pay if a service is not performed); or assume a third party's liability.
At
get indemnity
, we have the knowledge and experience to identify which insurers have the capacity to offer your profession the most competitive terms. Please complete our
online application
to compare professional indemnity cost from the wholesale market.
---
Professional indemnity insurance claims examples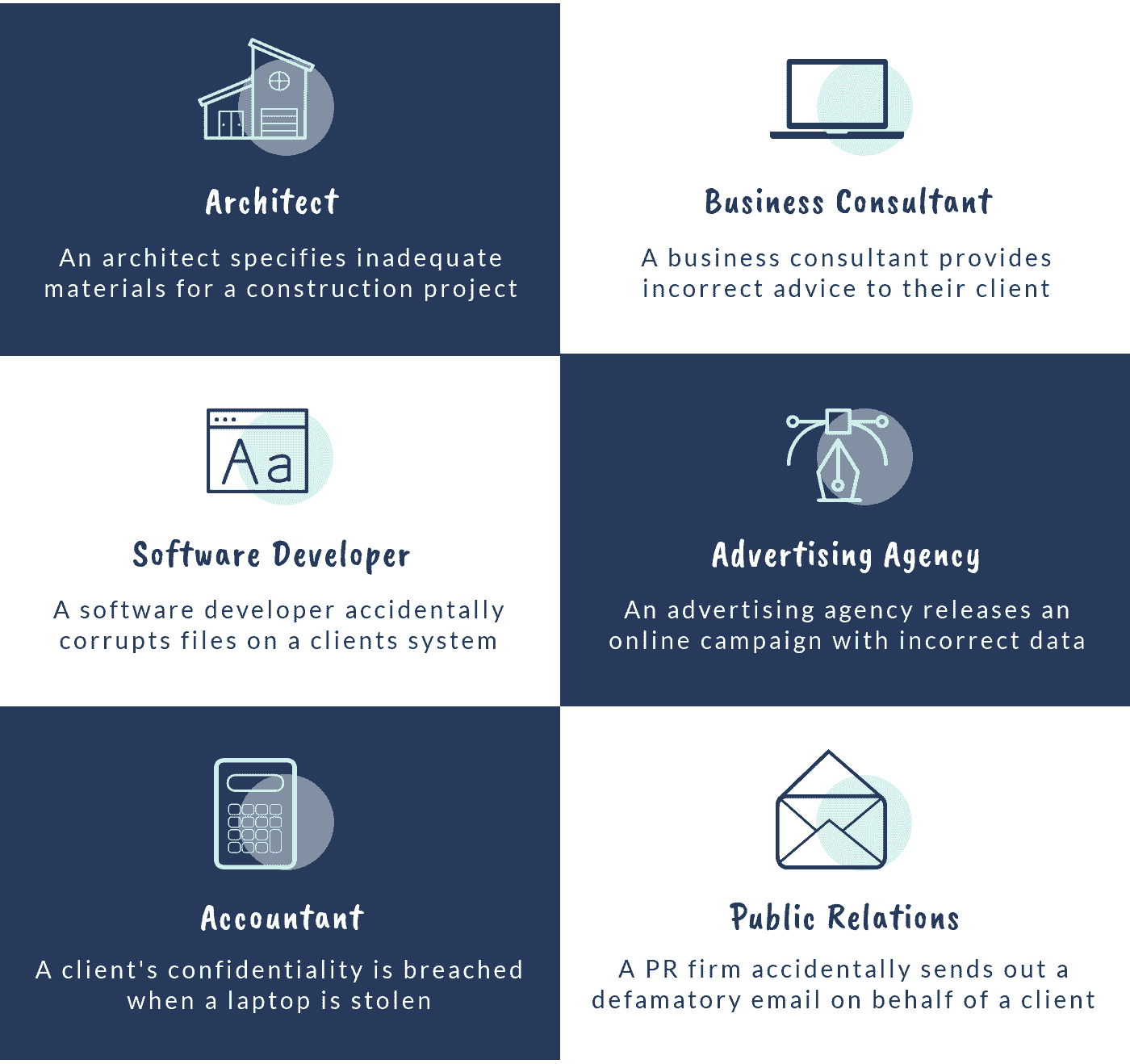 Professional indemnity claims are by nature low occurrence but high severity. A potential claim can have significant financial consequences if you are unfortunate enough to become the target of an allegation. 
Professional indemnity insurance means financial security from having to pay defence costs and damages as a result of an allegation that you failed to exercise reasonable skill and care.
---
Can you provide industry PI insurance guides?
How do insurers underwrite your PI Insurance?
The size of professional fees generated will bear a direct relationship to how insurer will measure and calculate your risk.
The allocation of fees between different professional services and the perceived exposure attaching to each.
Experience acts as an indicator of the applicant's ability to: 1) provide accurate advice or services; 2) match advice and services to the client's needs; 3) manage client expectations; 4) recognise and mitigate client dissatisfaction.
The allocation of fees between counties and which jurisdictions you contract your customers (UK, USA, Canada, Europe, Rest of World).
Financially stable applicants are less likely to change their business model, engage in M&A activity and downsize staff, potentially impacting their ability to service clients with whom they are contractually bound.
Reliance on any one client can lead to a situation whereby the applicant does not share the insurers interest in resisting spurious claims, therefore commercial interests are in conflict.
Excessive fees compared to contract values can indicate a higher perception of risk compared with industry standards.
Lack of standard contracts that mitigate your risk and legal vetting can indicate a reduced level of risk management and appreciation for the liabilities being accepted.
The nature and size of an applicant's typical project can indicate the level of exposure posed, with larger scale projects typically carrying increased risk.
Frequency and severity of claims with a lack of remedial action, can indicate a lack of quality risk management and systemic issues.
Complete our
digital on-boarding process
 and we can collate information that allows us to negotiate competitive professional indemnity insurance quotes from the wholesale market.
---
Negligence vs civil liability policy?
There are two types of professional indemnity insurance policies:
A 'negligence' policy provides cover if you breach your duty of care, by way of a negligent act, error or omission. This is the most cost-effective PI cover because it is limited to the cause of negligence.
A 'civil liability' policy does not restrict cover to the nature of the wrongdoing. PI cover may provide for: breach of contract, breach of duty of trust, conflicts of interest, breach of statute law and defamation. These may not necessarily arise from negligence and therefore may not be covered under a negligence policy.
Most civil liability policies will contain a number of exclusions, so it is important to understand the extent of such exclusions and seek advice from a specialist PI insurance broker.
If you would like a better understanding of liability principles, such as duty to defend or indemnification, please visit liability insurance.
---
How much professional indemnity should we buy?
The size of contracts you undertake can provide an indication to the potential financial exposure you are exposed, however this still may not be sufficient to cover your damages and defense costs.
It is worth considering that defence costs on average amount to over half the total cost of PI insurance claims.
The limit you purchase will depend on your perception of the exposure and how much you are prepared to spend to mitigate the risk. In addition to any required contractual or regulatory requirements.
We recommend you compare more than one option when obtaining your professional indemnity insurance quotes, to appreciate the cost to increase your limit.
---
How do professional indemnity policy limits apply?
Your PI policy limits will operate on:
any one claim & in the aggregate: which means the amount insured under the policy is a maximum for the entire policy period, no matter how many claims are made; or
each & every claim: which means the amount insured under the policy applies to each and every claim made (or a series of claims arising from any single event).
It is common for civil liability policies to operate on an each & every claim basis, whilst negligence policies typically operate on an any one claim & in the aggregate basis.
Please note your industry regulator may require your business to purchase a specific type of policy limit. Please seek advice from your specialist PI insurance broker.
---
What is a claims made policy?
Professional indemnity insurance
works on a claims made basis, whereby the current policy will respond to the claim made, irrespective of when the work was completed (provided that such services did not occur before the
retroactive date
).
The trigger of a claims made policy is when you become aware of circumstances that may give rise to a claim and report the circumstance to the insurer.
For example, if a management consultant provided a service in 2016, but was not aware the client was seeking damages against them until 2018, the PI Insurance claims made policy in 2018 will be available to respond to the claim (see below diagram).
It is important you notify the insurer of the circumstances immediately and within that policy period. Late notification may prejudice negotiations and entitle the insurer to repudiate the claim.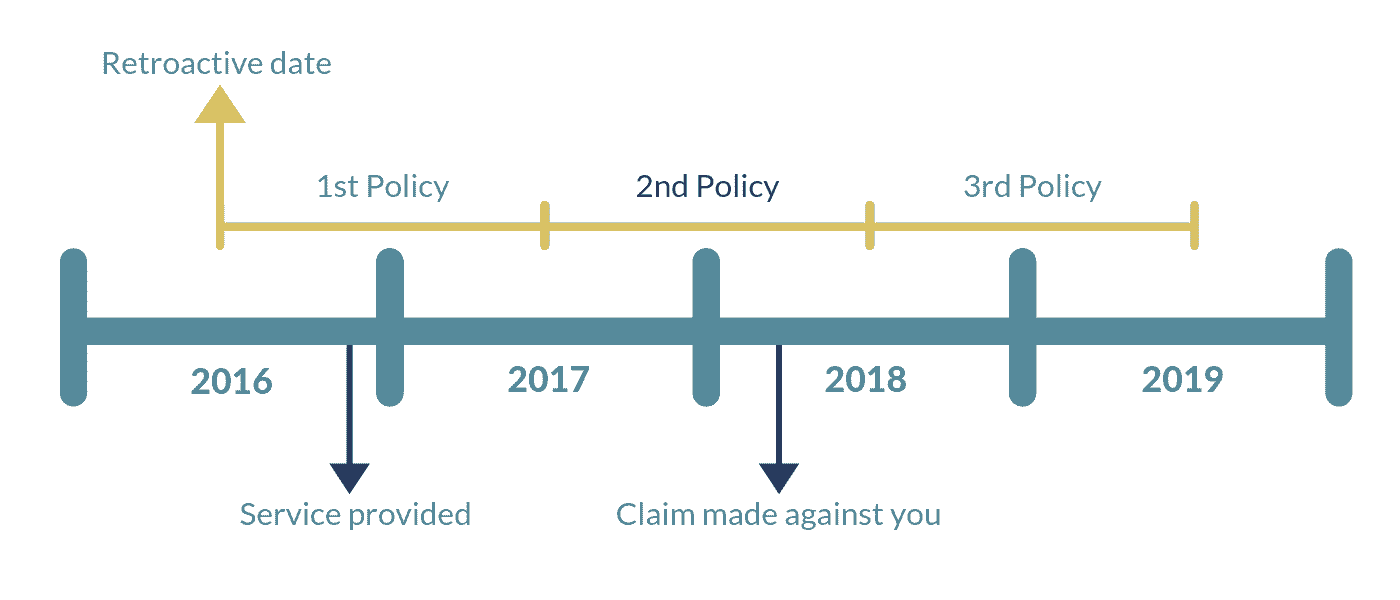 ---
What is a retroactive date?
For a claim to be covered it must arise from services performed by the insured on or after the retroactive date (detailed on your policy schedule). This will typically be the first date from which you purchased PI insurance.
If your retroactive date is 'unlimited' or 'N/A', professional indemnity cover will apply for actions from the date the company was incorporated.
Where for instance, the retroactive date is 01/06/2016, your PI policy will cover services offered on or after the retroactive date. If an allegation arises from services provided in 2015, your PI Insurance policy would exclude the claim made against you, even though the claim is made against you in 2017.
If you would like a better understanding of liability principles, such as long-tail liability, please visit 
liability insurance
.
---
What is run-off cover?
Run-off cover, also known as an extended reporting period, allows claims to be reported to the insurer after the policy has expired, to ensure you are protected from services already provided.
Run-off cover should be considered whilst the period your clients could make a claim against yourself is reduced, typically by the statute of limitations (civil wrongdoing in tort is six years).
There are a number of situations, such as an acquisition, or your business has ceased trading, that may cause you to purchase run-off cover
---
Major UK governing bodies, institutes & societies:
Why complete our online professional indemnity insurance application?
Our online professional indemnity application is simple to complete and validates your company information from third party data sources.
By identifying, recording and transferring your professional indemnity risk information electronically, we can create efficiencies in the supply chain.
Please provide detailed information in your online professional indemnity application because it will assist with negotiating improved terms from the market.
---
How to compare professional indemnity insurance quotes?
Please complete our
online application
to compare professional indemnity insurance quotes from the wholesale market.
At get indemnity we continue to see stable market conditions with reductions in premiums for the majority of industries. However, there have recently been signs of a hardening market with a reduction in the number of competing insurers.
High hazard exposures may come under increasing pressure to accept premium increases, with less insurers willing to compete. Your professional indemnity
insurance broker
 should engage with you early in the renewal process to ensure sufficient strategic planning to obtain a satisfactory renewal.
Note professional indemnity insurance definitions vary from policy to policy, therefore it's worth considering the terms and features to understand what cover best meets your needs. 

---
This guide is for information purposes and based on sources which we believe are reliable, the general risk management and insurance information is not intended to be taken as advice with respect to any individual circumstance and cannot be relied upon as such.