---
Get indemnity™ professional liability
Our get indemnity™ professional indemnity team have access to the wholesale market to identify competitive quotes for any professional in the UK. If you would like to talk with an insurance broker, please give us a call on 0345 625 0711.
Our professional indemnity online application is simple to complete and validates your company information from third party data sources. We may require you to complete a full proposal form depending on upon what services you offer.
If you want to discuss your individual circumstances, we're more than happy to offer our insights on how best to manage your professional exposure. At get indemnity™ we have a wealth of experience in managing professional's risk to 3rd party claims.
---
What is professional indemnity insurance?
Professional indemnity insurance (PI insurance), also known as professional liability, protects against the failure to exercise reasonable skill and care in the provision of professional or advisory services.
The business insurance will pay legal costs incurred in defending allegations and pay damages from any award or settlement. We've produced a useful guide called: Who needs professional indemnity insurance? Explained 1O1
To compare professional indemnity quotes from the wholesale market and benchmark whether you purchase the most appropriate protection
please arrange a call back
.
---
Who needs professional indemnity insurance?
Many professions are required to purchase professional indemnity as a regulatory requirement or to meet contractual conditions.
However, professional indemnity insurance should be considered for any organisation where advice, professional, or technical services are offered to a client. If you're unsure, contact us and we'll happily discuss your individual requirements.
At
get indemnity
™
we're a specialist professional indemnity
insurance broker
 and have the capacity to identify a range of solutions from the wholesale market.

---
How much does professional indemnity cost?
Professional indemnity insurance cost will vary from to insurer to insurer, so working with a specialist PI broker to access the wholesale market will save you money.
At get indemnity™ professional indemnity quotes start at £332 per year or £26.83 monthly for a £1 million limit. With a number of factors potentially impacting the availability and pricing we've produced a guide: How much does professional indemnity insurance cost?
Complete our
digital on-boarding process
 and we can collate information that allows us to negotiate competitive insurance quotes.
---
How does a professional indemnity policy work?
Professional indemnity insurance contracts are complicated, so it's best to use a specialist PI insurance broker to navigate the potential pitfalls.
The mechanics of a professional indemnity policy can differ, so it's important to appreciate the difference and whether you're required to purchase a specific type. We've produced a useful guide: How does a professional indemnity insurance policy work?
Watch out for whether the PI quotes you receive are for a 'negligence' or 'civil liability' cover, or whether the limits operate on an 'aggregate' or 'each and every claim' basis.
---
What professional indemnity insurance covers?
Professional indemnity insurance offers protection for defence costs and any damages awarded or settlement agreed. At get indemnity™ PI cover can protect against:
Negligence
Any act, error or omission which does not meet an accepted reasonable standard, if you owe a duty of care to the claimant.
Civil Liability
An act, error or omission under a civil proceeding which you are held to be responsible that leads to the claimant suffering a financial loss.
Breach of Contract
Any unintentional breach of contract with whom you have contracted to provide professional service for a fee.
Defamation
Libel, slander, product disparagement, which harms the reputation of a person or organisation, including mental anguish or emotional distress.
Breach of Privacy
A violation of the rights of privacy of an individual, including the public disclosure of private facts.
Intellectual Property Infringement
Unintentional intellectual property infringement, including but not limited to infringement of copyright and plagiarism. 
Some policies may include Employee Dishonesty and Loss of Documents under an extension. Note professional indemnity insurance definitions and coverage vary from policy to policy, therefore it's worth considering whether the specific cover meets your needs.
---
Get indemnity™ professional guides:
How much professional indemnity should we buy?
The size of contracts you undertake offer an indication of how much professional indemnity you should buy because an unsatisfied customer will typically claim the contract value.
It is worth considering that defense cost on average amount to over half the total cost of professional indemnity claims.
Minimum amount of professional indemnity
The minimum amount of professional indemnity you can buy is £100,000, however you should consider the additional cost of buying an increased limit. The most common amount bought by small businesses is £1 million.
In addition, to any required contractual or regulatory requirements, the amount of PI cover you purchase will depend on your perception of the exposure and how much you are prepared to spend to mitigate the risk.
Please note the amount you purchase, may not be suffcient to cover the cost of future claims. We recommend you compare more than one option to appreciate the cost to increase your limit. Get professional indemnity quotes by completing our digitial onboarding process.
---
Professional indemnity insurance claim examples: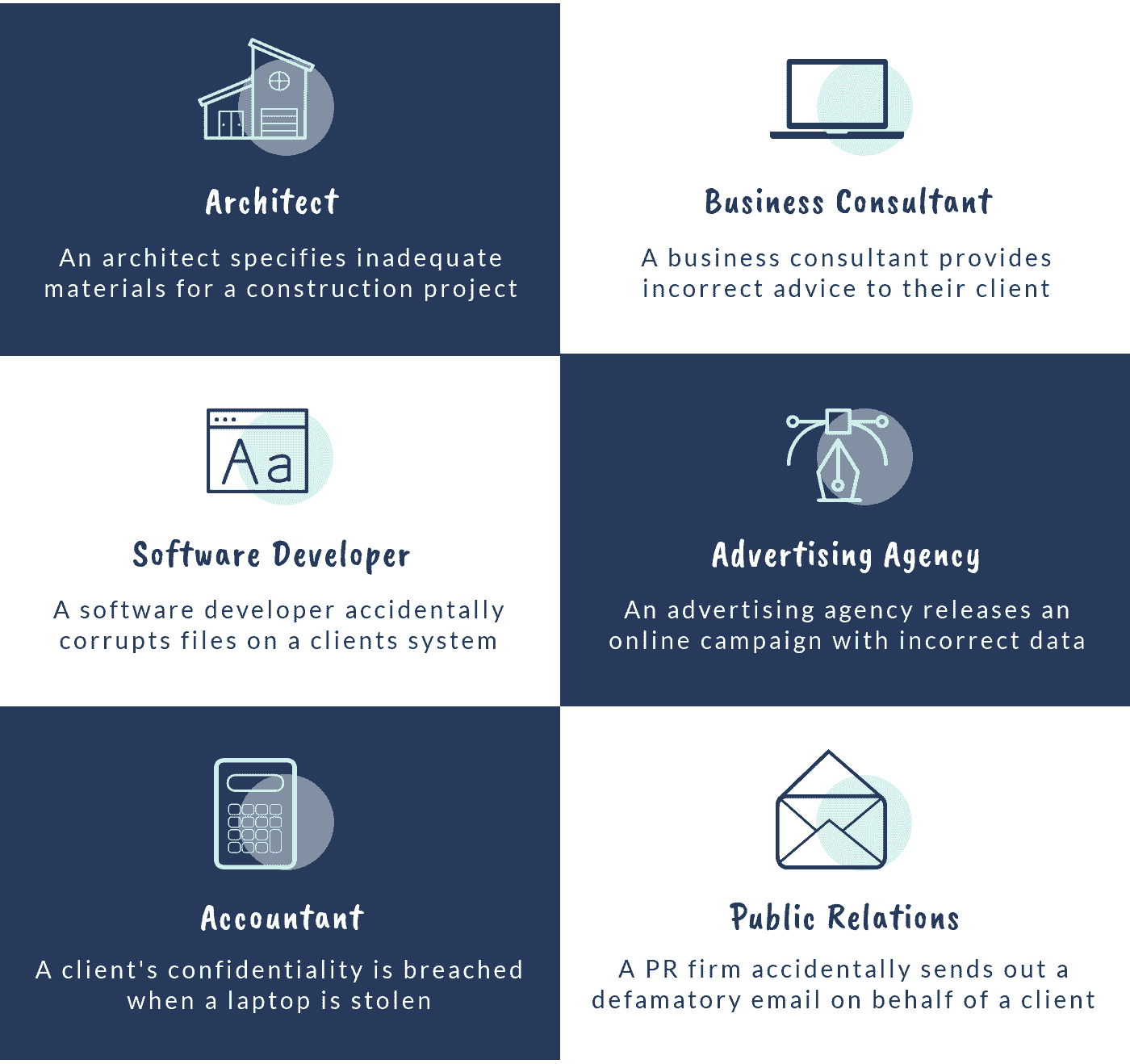 Impact of professional indemnity allegations
Professional indemnity insurance claims are by nature, low occurrence but high severity. A potential claim can have significant financial consequences, if you're unfortunate enough to become the target of an allegation. 
---
Errors and omissions (E&O) insurance
Errors and omissions (E&O) insurance is an alternative name for professional indemnity or professional liability, however it is more commonly referred to errors and omissions within North America and certain classes of media liability insurance, such as T.V & Film.
If you take a closer look at the insuring clauses within the policy wording, the cover will protect against, acts, errors or omissions, hence the alternative name for the insurance protection.
---
Leading professional indemnity providers:
At get indemnity™ we work with a wide range of PI insurance providers to ensure our clients obtain the broadest cover at the most affordable premium.
Leading PI insurance providers include: AIG, Allianz, Aqueous, AXA, Beazley, Chubb, CFC, CNA Hardy, Hiscox, Markel, MPR, Nexus, Tokio Marine, and QBE.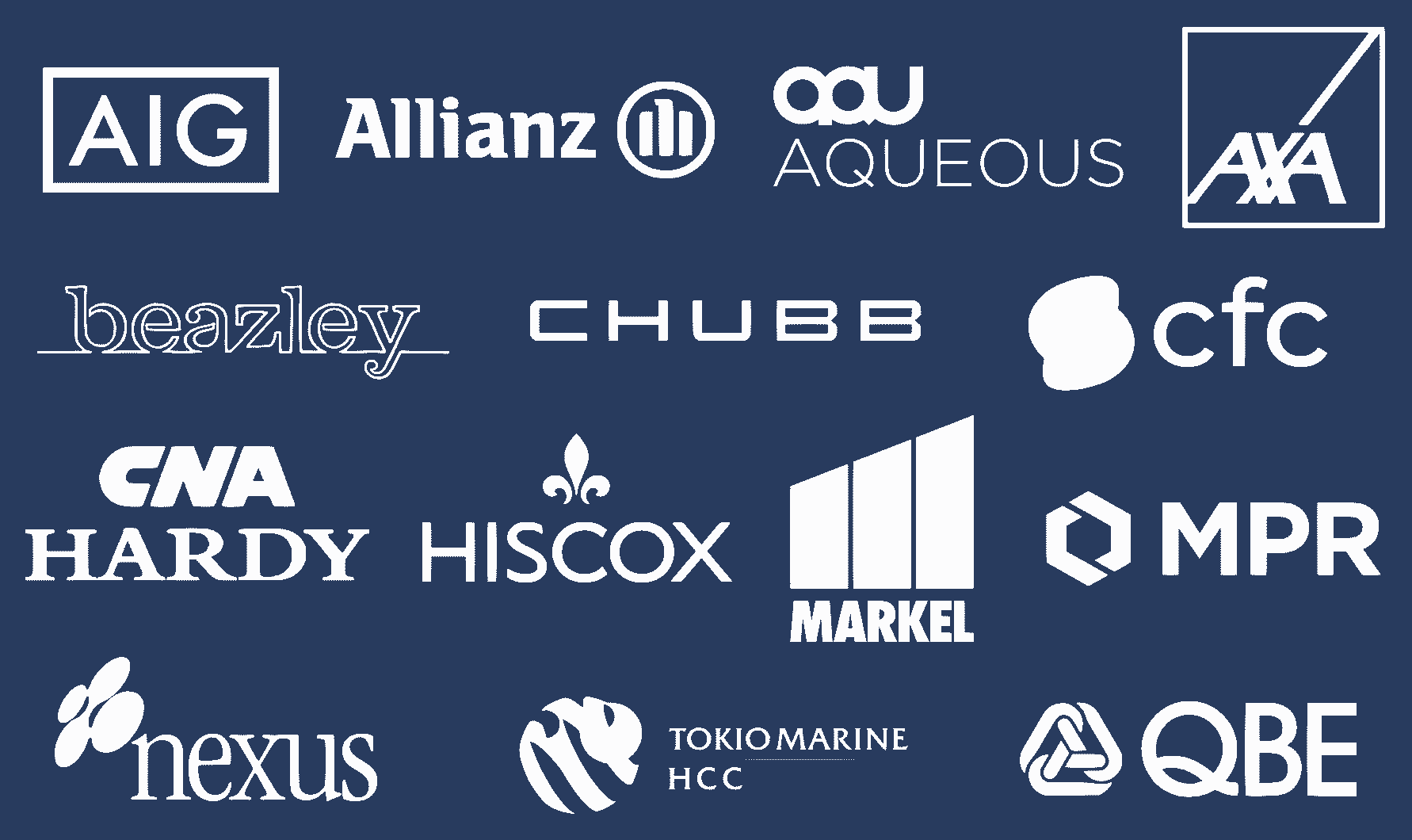 ---
How to compare professional indemnity quotes?
Please complete our
online application
to compare professional indemnity insurance quotes from the wholesale market.
At get indemnity™ we continue to see stable market conditions with reductions in premiums for some industries. However, there have recently been signs of a hardening market with a reduction in the number of competing insurers.
High hazard exposures may come under increasing pressure to accept premium increases. Your professional indemnity 
insurance broker
 should engage with you early in the renewal process to ensure sufficient strategic planning.

---
This guide is for information purposes and based on sources which we believe are reliable, the general risk management and insurance information is not intended to be taken as advice with respect to any individual circumstance and cannot be relied upon as such.