Who needs professional indemnity insurance?
Professional indemnity insurance needs to be considered by businesses selling their skills and knowledge based on their experience or qualifications. These persons will hold a greater level of knowledge in their subject matter than the average person.
Some professions such as accountants, architects, engineers, surveyors and solicitors are required to buy the insurance to operate in their respective industries. Please talk with your governing body or regulator to understand your professional requirements.
However, other services such as advertising, advisory, consultancy, contractors, designers, financial services, technology / software, marketing, media, project management, specification, testing and/or training will commonly purchase.
---
Is professional indemnity insurance a legal requirement?
Professional indemnity insurance is not a legal requirement in the UK for most professions, but it is commonly purchased for a number of different reasons. Below we take a closer look at why businesses may need to purchase the cover:
Firstly, some regulators and/or professional bodies require companies or individuals to hold minimum amounts of professional indemnity insurance cover to operate and/or continue their professional membership.
Secondly, businesses that offer advice, provide a professional service or handle client data or intellectual property would benefit from having cover to protect against third-party claimants seeking financial compensation.
Thirdly, other companies may require cover to win new contracts and prove to potential customers they have the financial means to offer compensation should you breach the terms of your contract.
Many businesses do not appreciate the need to purchase insurance protection, especially if there is not a legal requirement or if offering services is only part of their business.
---
What can professional indemnity insurance cover?
The best professional indemnity insurance can protect against a range of civil liabilities including negligence, breach of contract, defamation, breach of privacy, employee dishonesty and intellectual property infringement.
It's worth considering that not all insurance policies are equal, especially if you are obtaining a policy from a direct B2C provider. It's worth investigating the 'insuring clauses' and 'exclusions' within the policy wording and schedule.
Civil Liability
Civil liability covers an act, error or omission under a civil proceeding which you are held to be responsible that leads to the claimant suffering a financial loss.
Negligence
Negligence covers any act, error or omission which does not meet an accepted reasonable standard, if you owe a duty of care to the claimant.
Breach of Contract
Breach of contract covers any unintentional breach of contract with whom you have contracted to provide professional service for a fee.
Defamation
Defamation covers libel, slander, product disparagement, which harms the reputation of a person or organisation, including mental anguish or emotional distress.
Breach of Privacy
Breach of privacy covers the violation of the rights of privacy of an individual, including the public disclosure of private facts.
Intellectual Property Infringement
Intellectual property infringement covers unintentional IP infringement, including but not limited to infringement of copyright and plagiarism. 
Cover provided under professional indemnity policies can offer financial protection from damages and defense costs as a result of a third-party seeking compensation. It's worth considering that defending of the allegation will in most claims represent a significant percentage of the overall cost (+60% average).
---
Why choose get indemnity™ as your professional insurance broker?
Compare
tailored business insurance quotes
with a digital insurance broker to ensure you achieve value for money and are covered in the event you need to rely on your insurance protection.
There are only a handful of professional indemnity insurance providers that provide their solutions directly to the customer on a B2C basis. The vast majority of insurers will only offer their products through licenced intermediaries.
At
get indemnity
™ we act as an
independent insurance broker
that works on behalf of our clients to secure competitively priced PI insurance from the wholesale market in the United Kingdom.
---
Access to the wholesale insurance market
There are numerous professional indemnity insurers competing in the wholesale insurance market. Coverage and premium rates continue to change, and so does your business and its insurance needs.
It is prudent to compare terms with an insurance broker to ensure you continue to buy the most appropriate protection. Your business may have accepted terms from a direct insurer in the past, however you should consider whether the cover is still suitable.

---
Professional indemnity insurance explained
Insurance for professionals can be complicated so we've broken down the most frequently asked professional indemnity insurance questions to provide a helpful guide when you require further information.
Is professional liability and E&O insurance the same?
Professional liability insurance and E&O insurance, which is short of errors and omissions is the same cover as professional indemnity insurance. The former are commonly used terms in North America to describe the same
type of insurance
.
If your client makes reference to professional liability insurance or errors and omissions insurance, you can be confident in the fact the cover you purchase in the UK will meet their requirements because the policies operate on the same basis.
Indemnity or to indemnify means putting the person back into the same financial position they were before the incident took place. Liability means you are legally responsible for something.
---
What amount of cover should we purchase to protect our business?
The minimum amount of cover you can buy is £100,000, however you should consider the additional cost of buying an increased limit. The most common amount bought by small businesses is £1 million.
In addition, to any required contractual or regulatory requirements, the amount of cover you decide to purchase will depend on your perception of the risk and how much you are prepared to spend to mitigate the future cost.
---
How do underwriters calculate your insurance premium?
The main drivers for your insurance cost will be the industry you work, the type of services you provide, the size of your professional fees, the size of your clients, which countries you provide your services and what laws you contract under.
At get indemnity™ the cost of cover starts at £332 per year or £26.83 monthly for a one million limit. Complete our digital on-boarding process or give us a call on 0345 625 0711 to obtain your quotes.
---
Can you provide some professional indemnity claim examples?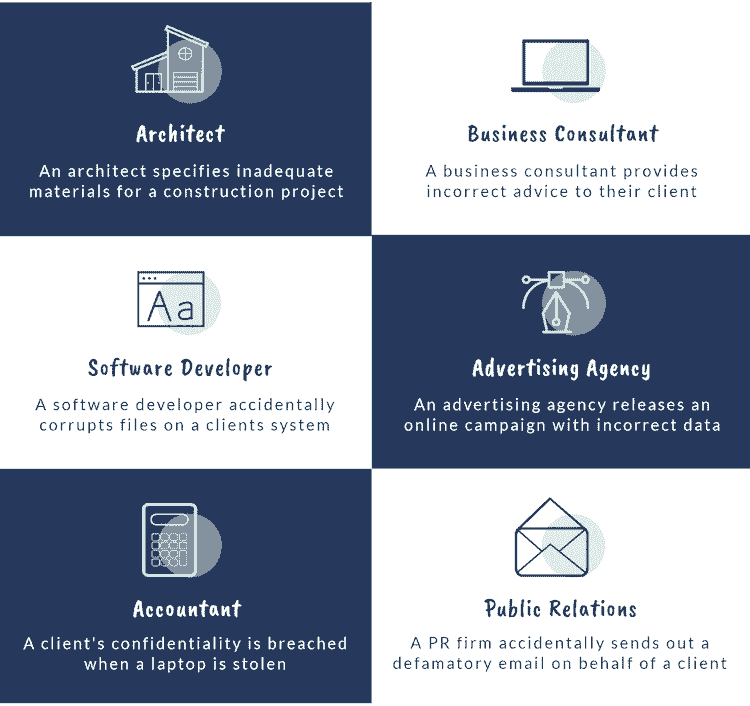 Liability claims are by nature, low occurrence but high severity. A potential claim can have significant financial consequences, if you're unfortunate enough to become the target of an allegation. The insurance means financial security from having to pay defence costs and damages as a result of an allegation. 
---
What is professional indemnity underinsurance?
Professional indemnity underinsurance occurs when businesses don't purchase sufficient amounts of cover and find themselves facing large compensation claims to put their customer back into the same financial position.
Purchasing PI insurance should always be considered where a business provides advice, professional, or technical services to their clients. Unfortunately claims can be very costly to defend and without protection could seriously impact your business.
---
How does 'claims made' insurance policy work?
Professional indemnity policies work on a 'claims made' basis, whereby the current policy will respond to the claim made, irrespective of when the work was completed.
Provided that such services did not occur before the retroactive date, for further information click the link. The trigger of a 'claims made' policy is when you become aware of the circumstances that may give rise to claim and then notify the insurer.
Example 'claims made' policy
If a management consultant provided a service in 2016 but was not aware the client was seeking damages against them until 2018, the 'claims made' policy in 2018 will be available to respond to the claim (see below diagram).
It is important you notify the insurer of the circumstances immediately and within that policy period. Late notification may prejudice negotiations and entitle the insurer to repudiate the claim.

---
How to obtain tailored professional indemnity insurance quotes?
Complete our
digital onboarding process
to compare tailored insurance quotes from the wholesale market. If you have any questions or would like to talk give us a call on
0345 625 0711
.
Typically, we can provide quotes in 24 - 48 hours, however depending upon your profession the process can take up to 10 working days. If you operate in a specifically challenging industry, please provide us with sufficient time to engage with the market.
It's worth spending sufficient time on your professional indemnity renewal because the cover could save your business from having to pay expensive legal fees and any damages awarded by a court.
---
What to consider when applying for professional indemnity insurance?
When you apply for indemnity insurance, you should breakdown your business activities and turnover with as much detail as possible. It will provide insurers a greater insight into your activities and a better opportunity for discounted rates.
If your turnover is made of professional fees and other income, such as products sold, it is important to clearly separate because insurers should only take into consideration your professional fees when calculating your insurance premium.
Complete and full answers
By offering complete answers in your application for professional indemnity insurance, insurers will have greater capacity to offer competitively priced premiums. Information that identifies how your business represents a better risk than your industry peers can increase the availability of cover and reduce your insurance premium.
For more larger and complex risks, insurers will consider premium discounts where evidence of compliance procedures, risks assessments and/or a complaints register demonstrate your risk adverse nature and high level of due diligence.
---