---
Simple and cost-effective health insurance
As a specialist health insurance broker, we have partnered with Equipsme to offer an affordable and flexible health insurance plan.
Now available for UK businesses with less than 1000 employees. All employees between 16 and 69 years pay the same premium, with a simple online medical declaration. Private health insurance is now more accessible to small businesses and their employees.
Each employee has the opportunity to upgrade and tailor their health insurance, with the opportunity to add family members to their plan online. Obtain your quote by completing our
online application
and select
group health insurance
.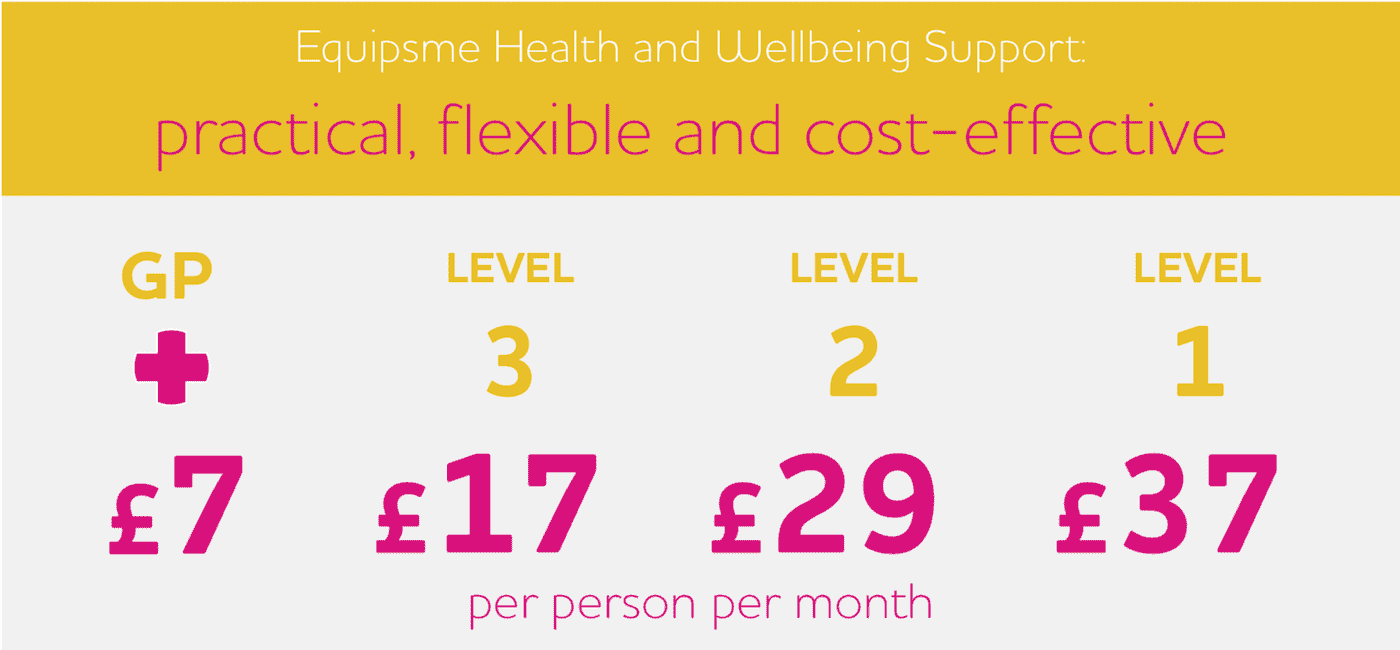 ---
Why offer your employees health insurance?
Health and wellbeing is rising on the agenda of forward-thinking employers. It was identified that 45% of organisations have a defined wellbeing strategy in place and 70% of those without a plan are planning to introduce something within the next few years.
Faster access to health support makes business sense too. Easing the frustration and anxiety that your employees might experience when waiting for health diagnosis and treatment boosts morale and reduces negative distractions.

A survey of 830 GPs revealed that the average waiting time is up from ten days in 2015. It also reveals that more than 40% of patients are having to wait longer than 14 days for a routine appointment. (pulsetoday.co.uk)
---
How does Equipsme health insurance work?
The plan meets the needs of companies who wish to provide their employees with private health insurance and wellbeing services, to help treat curable conditions and obtain support & advice on medical or mental health issues.
---
What's different about Equipsme health plans?
You choose a mixture of plans to suit your business and budget for two or more employees.

The price of the plan is the same for all ages 16-69 years and all applicable taxes are included.

Employees can upgrade and add family if they want to pay separately.

There are no medical questions on application. Pre-existing conditions in the three years before the plan starts are excluded.

When it comes to cancer, fast diagnosis is the key to getting the treatment you need quickly, so cancer diagnosis is covered on all plans starting from £17 pppm. Once cancer is diagnosed, we will support and guide you back into the NHS for treatment.

Stress support at £1.50 pppm and Dental & Optical at £7.50 pppm are options available to businesses to add across the health plan.
---
What are the features of each health insurance plan?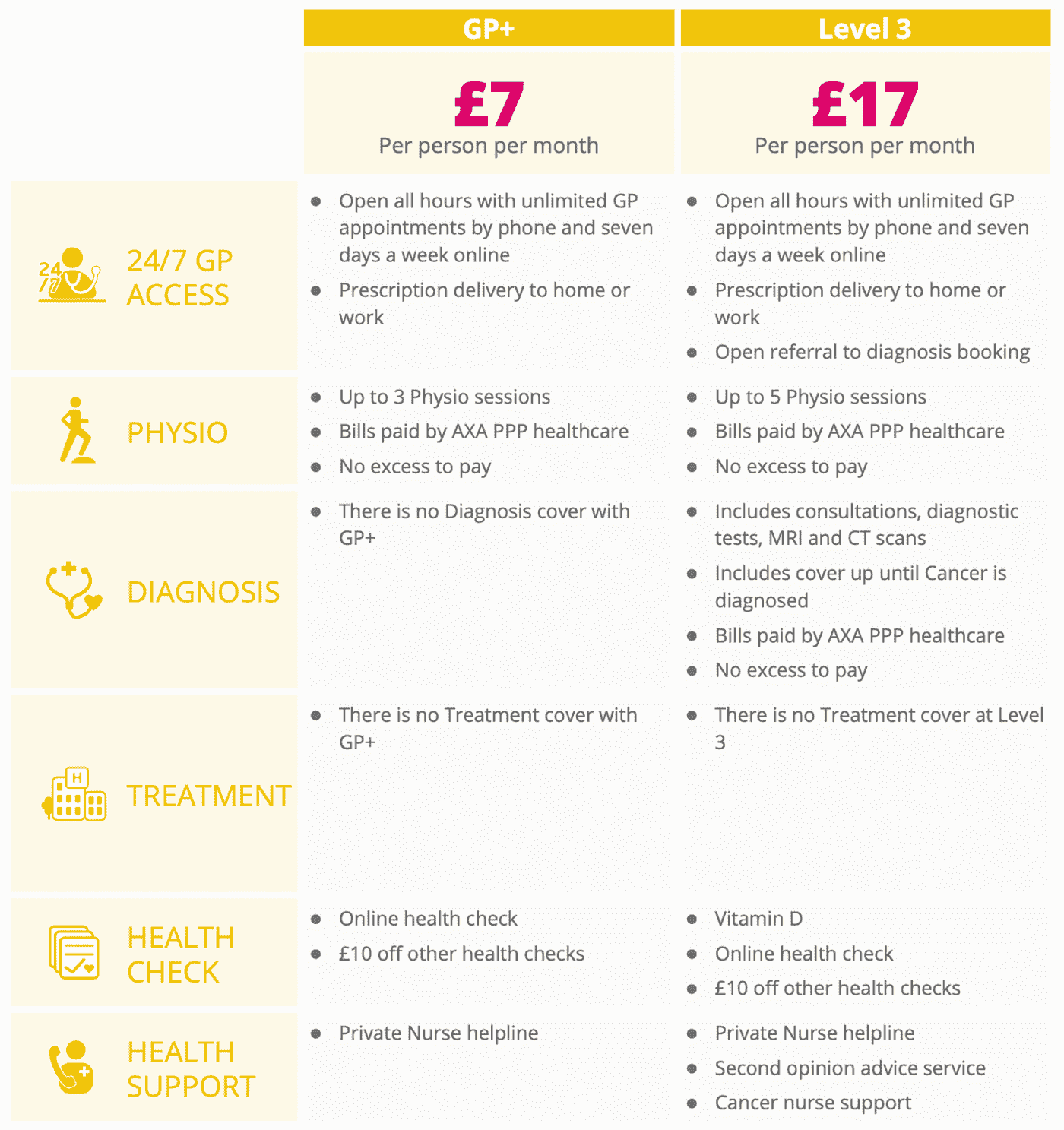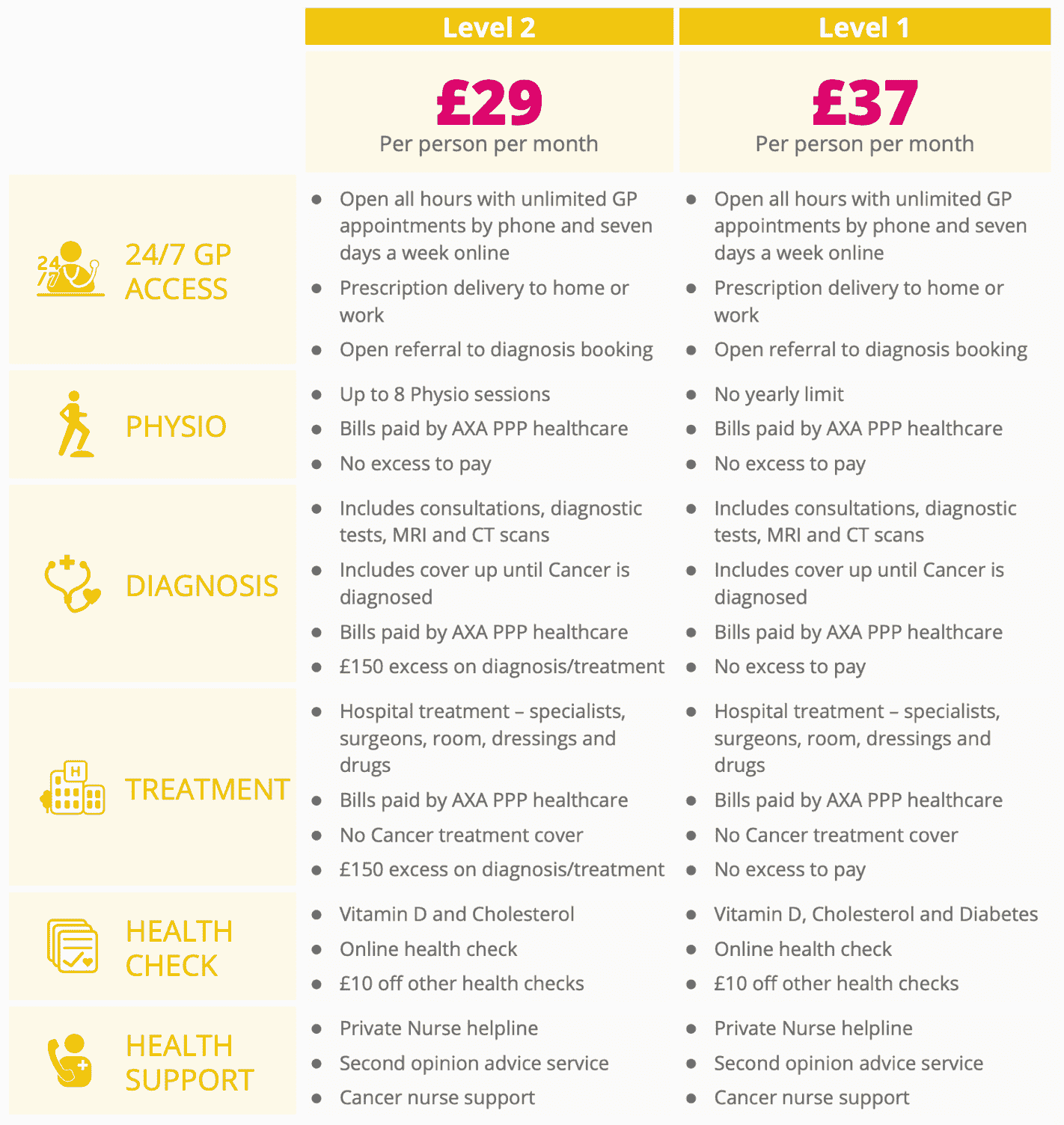 With uncertainty, employees are left in limbo because they do not know what they are facing. They could also be distracted mentally and unable to perform certain tasks at work. Diagnosis is a key factor in determining how long you will wait for treatment. The quicker you are diagnosed the sooner the stress of what is wrong is over and treatment can start.
With private health insurance offering access to both diagnosis and treatment, your employees will have greater peace of mind. Having to wait to find out what is wrong can be a very anxious time but having to wait for the next available slot on the NHS can be equally as frustrating and cause unnecessary discomfort and uncertainty.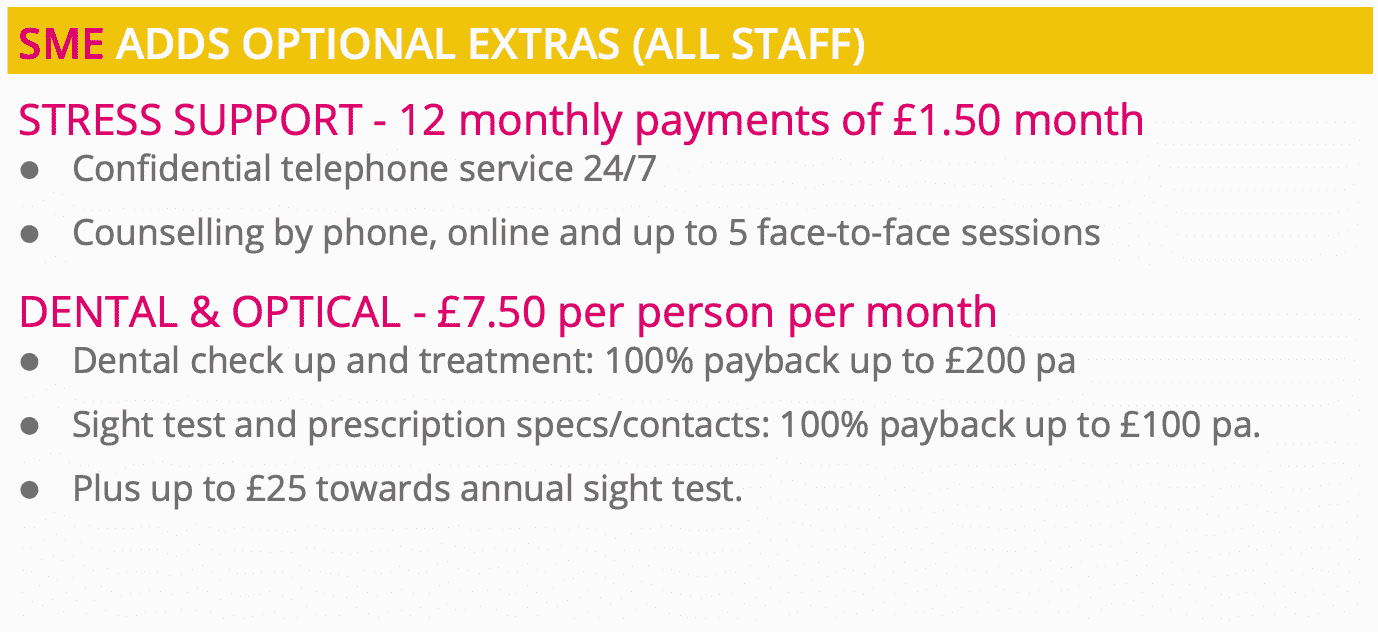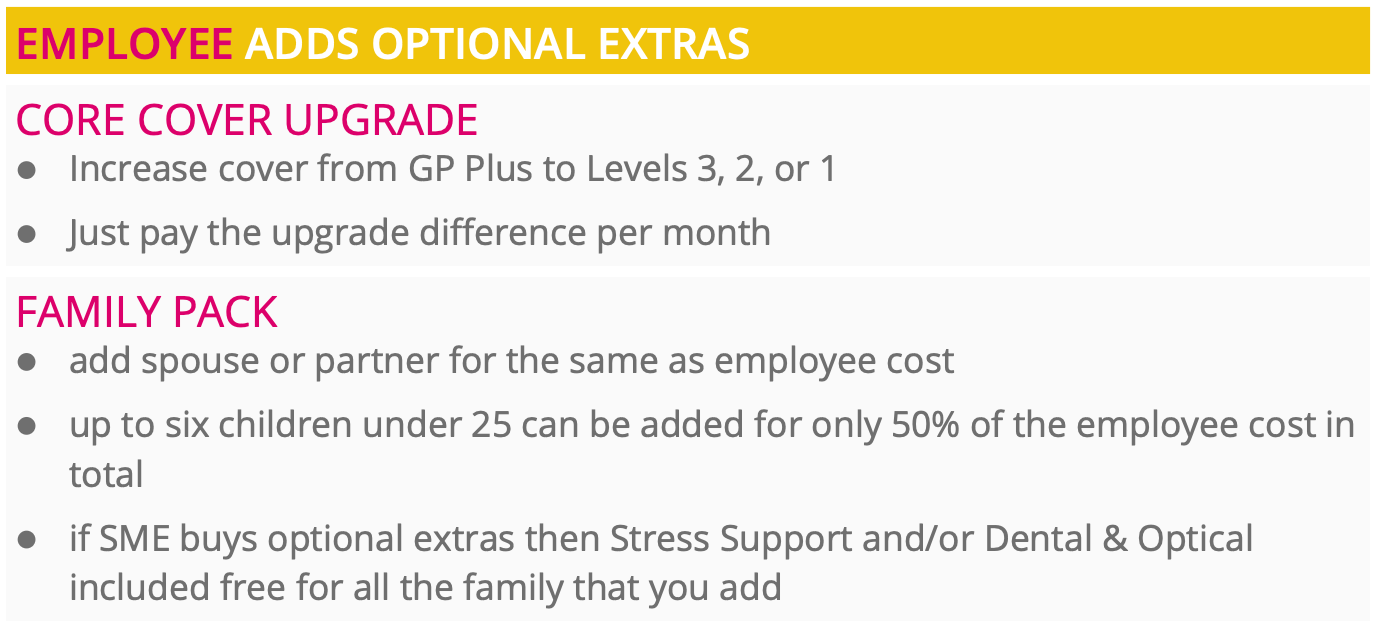 Members can access their health insurance benefits via the
Members Portal
and the 
Equipsme App
available from on the 
Apple Store
 or on 
Google Play
.
Your employees can book GP access 24/7 from anywhere in the world and contact AXA PPP healthcare to access Physio (and Diagnosis or Hospital Treatment if included in their Plan).
---
What is not included?
Like any plan that includes insurance benefits, Equipsme Health Insurance is about protecting your employees if the unexpected happens, and to help put things right. This means that the plan can't cover everything and so we have highlighted key exclusions here that apply to the Physio, Diagnosis and Treatment insurance cover only (ie, they do not apply to the GP access, Health Check and optional extra benefits).
Brand new medical conditions are covered under the health insurance as long as they continue to respond to treatment. However, the plan won't cover the Physio, Diagnosis or Treatment cost of any health problem that anyone included under the plan already had symptoms in the last three years (what we call pre-existing conditions).
A pre-existing condition is any disease, illness or injury that members:
have received medication, advice or treatment for in the three years before the start of cover; or
have experienced symptoms of in the three years before the start of cover; whether or not the condition was diagnosed.
This means that if Physio, Diagnosis or Treatment is required members may need to provide more detailed information to make sure the condition is'nt pre-existing.
In some cases, a further medical information form may need to be completed. Or if a members NHS GP needs to send more details about the medical condition, the member may need to give consent for access to their medical records.
---
Other important exclusions
Treatment of Cancer the plan does not cover the treatment of cancer. However, members on Core Cover Level 1, 2 or 3, have cover up to the point at which cancer has been diagnosed.
Pregnancy and childbirth but the plan will pay to treat certain medical conditions that arise during pregnancy (depending on Core Cover Level including Treatment)
Ongoing, recurrent and long-term conditions we call these chronic conditions
Treatment received outside the UK
Mental health conditions the plan does not cover the treatment of these conditions but if you have included the Stress Support extra cover, we can help with telephone and face-to-face counselling
Full contractual information regarding the health insurance cover and non-insurance services is provided in more detail in the following Equipsme documents:
The Company Guide and Agreement and the Company Schedule (for you as the company buying the plan)
The Membership Handbook and the Membership Certificate (for employee members you include under your plan)
---
Specialist health insurance broker
As a specialist health insurance broker, we have the ability to identify quotes from a number of insurers operating in the wholesale market. If you would like to obtain quotes in addition to Equipsme, please let us know.

---
This guide is for information purposes and based on sources which we believe are reliable, the general risk management and insurance information is not intended to be taken as advice with respect to any individual circumstance and cannot be relied upon as such.