---
What is pension trustee liability insurance?
Pension trustee liability insurance (otherwise known as PTL insurance) offers financial protection for individuals while acting as trustees, the sponsoring employer and the pension scheme, against civil, criminal and regulatory proceedings.
The business insurance will pay legal costs incurred in defending allegations and damages arising from any judgment, award or settlement.
---
Who needs pension trustee liability insurance?
The law will generally seek to protect individual trustees from personal liability where they have acted in good faith and complied with their obligations.
However, any trustee that fails to meet their responsibilities on behalf of a pension scheme, can potentially be held personally liable. Pension trustee insurance is therefore required to protect the personal assets of individuals that take up trustee positions.
Taking on the role of a trustee is an important responsibility and should not be taken lightly. There are a number of resources available offering guidance:
Trustees must keep up to date with regular training and demonstrate to the pensions regulator they have met the required standards. Under the
Pensions Act
 there is a legal requirement for trustees to understand the law relating to pensions and investment principles.

To compare pension trustee liability insurance quotes from a range of wholesale insurers, please complete our
online application
.
---
Why purchase pension trustee liability insurance?
Regulation affecting the running of pension schemes has placed increased scrutiny on those who sponsor and manage pension schemes. The Pension Ombudsmen accepted 1,676 complaints for investigation in 2017/18; an increase of 26% when compared with 2016/17.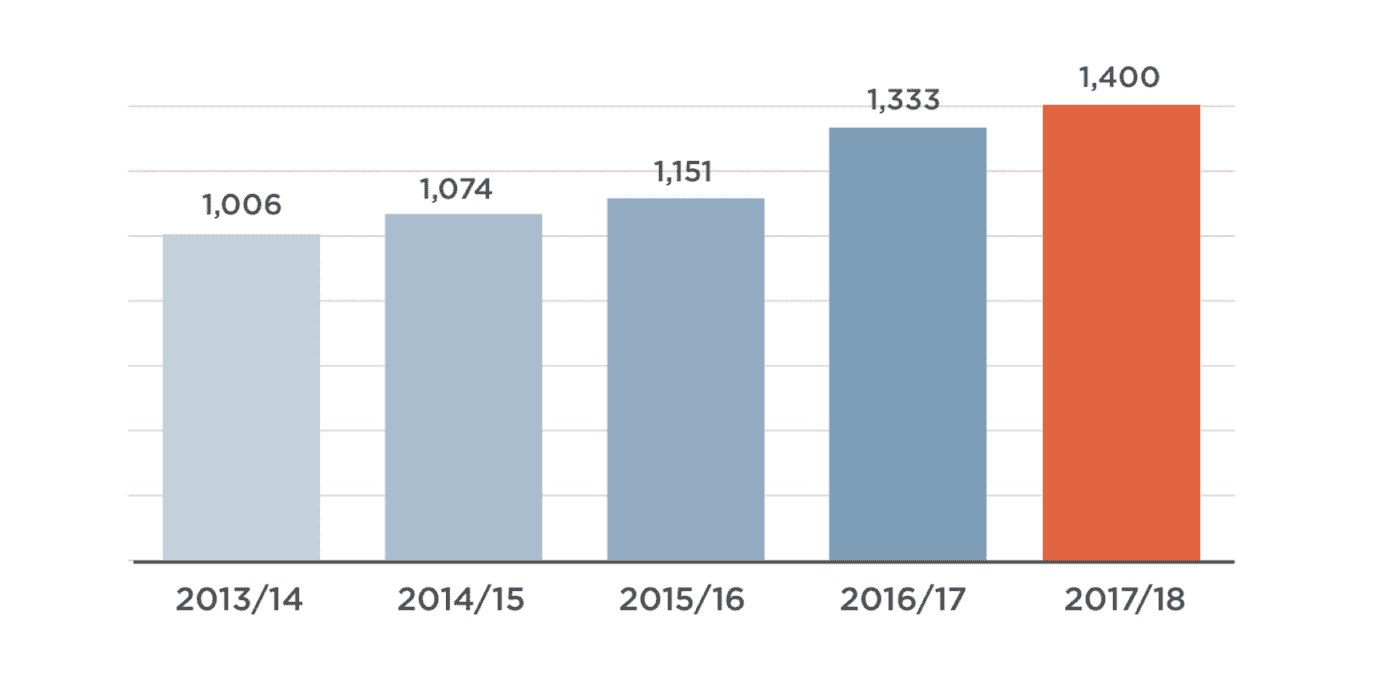 The above chart shows the underlying trend of new Pension Ombudsmen investigations over a period of five years – with groups removed.
Pension trustee liability insurance can offer protection for regulatory investigations and penalties imposed by the Pensions Regulator and Pensions Ombudsman.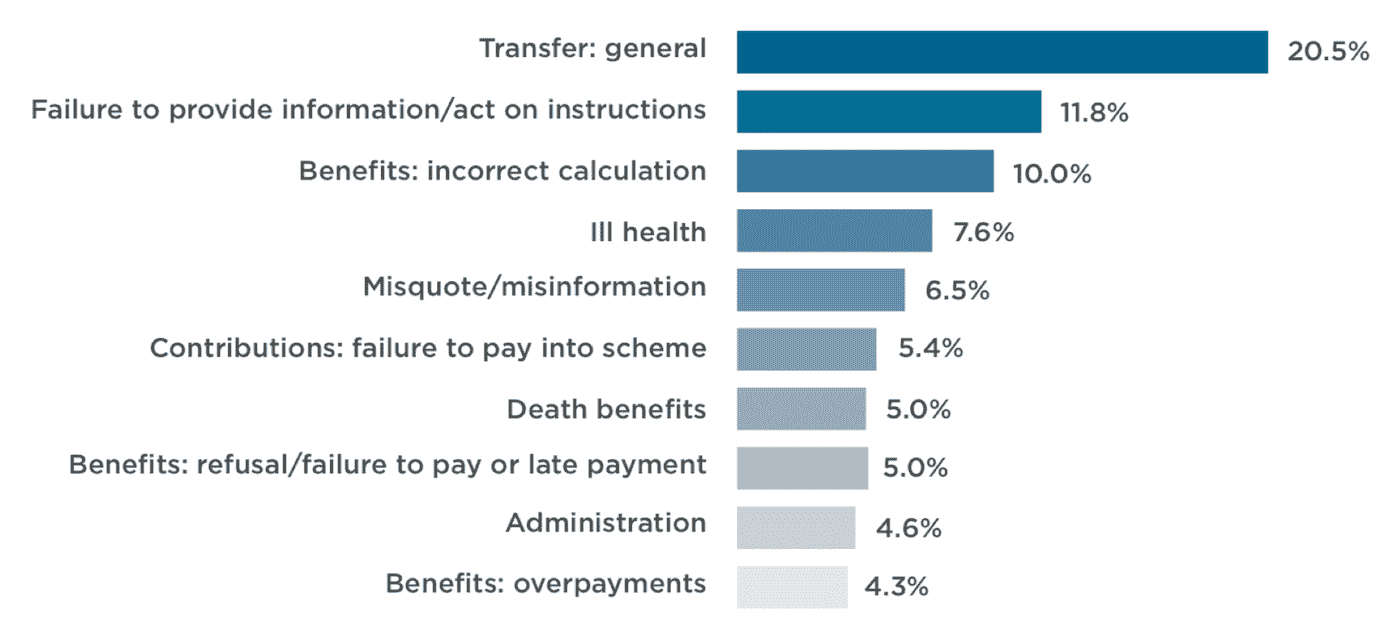 The above chart shows the subject matter of new investigations brought in 2018.
---
How can PTL insurance claims or investigations arise?
A pension trustee liability insurance policy can cover claims and investigations arising from a wide variety of wrongful acts, including:
|   |   |   |
| --- | --- | --- |
| Breach of trust | Breach of duty | Breach of law |
| Maladministration | Neglect | Errors |
| Misstatements | Misleading statements | Omissions |
What does pension trustee liability cover?
Each insurer's pension trustee liability insurance definitions can vary, however the broad covers available are comparable under the below headings:
> Awards of damages
Awards of Damages - Provides cover for damages against the insured, including compensation determined by the Pensions Regulator and Pensions Ombudsman.
> Defence costs
Defence Costs - Provides cover for legal costs and expenses incurred in defending and investigating claims brought against the insured.
> Overpayments
Overpayments - Provides cover to the pension scheme for liabilities owed as a result of an insured persons wrongful act.
> Investigations costs
Investigation Costs - Provides cover for legal costs and expenses which an insured incurs in its representation at an investigation by the Pensions Regulator.
> Fines and penalties
Fines and Penalties - Provides cover for civil fines and penalties imposed by the Pensions Regulator, determinations panel or Pensions Ombudsman.
> Additional costs
Additional Costs - Provides cover for a variety of additional costs including, court attendance costs, mitigation costs, prosecution costs, public relation costs and document costs.
If you require protection following the completion of a pension scheme wind-up, please contact us because we can arrange run-off cover up for up to 15 years and protect against missing beneficiary claims.
---
What if the sponsoring employer provides indemnification?
Trustees may have clauses within the trust deed exonerating them from liability. However, there are a number of limiting factors:
the ability for the sponsoring employer to provide indemnification (for example, the company enters into administration); and
the trust deed cannot provide protection against claims from third parties or regulatory proceedings.
Pension trustee liability insurance is designed so cover can reimburse the sponsoring employer, in the event the individuals are indemnified.
---
Who is covered under pension trustee liability insurance?
The cover is designed to be broad and will typically include, all trustees, employees, directors and officers of the pension scheme or sponsoring employer, whether current, future and past.
Including their respective lawful spouse, estate, heirs, if named as co-defendant, in circumstances allegations are made against a person who is deceased, insolvent, or bankrupt.
Pension trustee liability insurance will also extend to:
>  the pension schemes,
>  the sponsoring employer; and
>  any corporate trustees.
---
How do insurers underwrite your PTL insurance?
The size, type and funding levels of your pension schemes will have a direct impact on how your pension trustee liability insurance premium is calculated.
Smaller schemes that are fully funded will be viewed more favourably, compared with large schemes with significant deficits.
Defined contribution schemes will be viewed more favourably, compared with defined benefit schemes.
Consideration is also made to the sponsoring employer's financial standing, if you maintain a strong balance sheet with manageable debt, insurers will take a more favourable view.
Underwriters will typically review your latest reported financial statements from Companies House to consider any negative trends and likelihood of failure.
---
How to compare pension trustee liability cover?
At get indemnity™ we can compare your existing pension trustee liability insurance against competitive quotes from the wholesale market.
In recent years, there has been significant premium reductions available as a result of a stable claims environment and increasing competition between insurers.
To obtain the most competitive quotes we recommend you submit copies of the following with your application:
>  Schedule of the pension schemes that require cover
>  Latest report and accounts for each pension scheme
>  Latest actuarial report for each pension scheme
Insurance underwriters prefer a comprehensive understanding of the type, size and funding levels of the schemes.
At
get indemnity
™
we are specialists in pension trustee liability insurance and can negotiate cover at cost-effective premiums. Please send all supplements to contact us once you have completed our
online application
.

---
Do we require cyber insurance?
In response to guidance offered by the
Pensions Regulator
:
Cyber security principles for pension schemes
. We can provide tailored covers offering improved cyber resilience in the form of
cyber insurance
and
crime insurance
.
The consequences of a cyber security breach for a pension scheme and its members could be significant. Trustees should familiarise themselves with the regulators guidance and ensure they meet the regulators expectations.
---
This guide is for information purposes and based on sources which we believe are reliable, the general risk management and insurance information is not intended to be taken as advice with respect to any individual circumstance and cannot be relied upon as such.