---
What is a risk management process?
A risk management process is the framework of identifying, evaluating and controlling potential threats to the business. It will consider different strategies to address risks within a tolerance level acceptable to the business.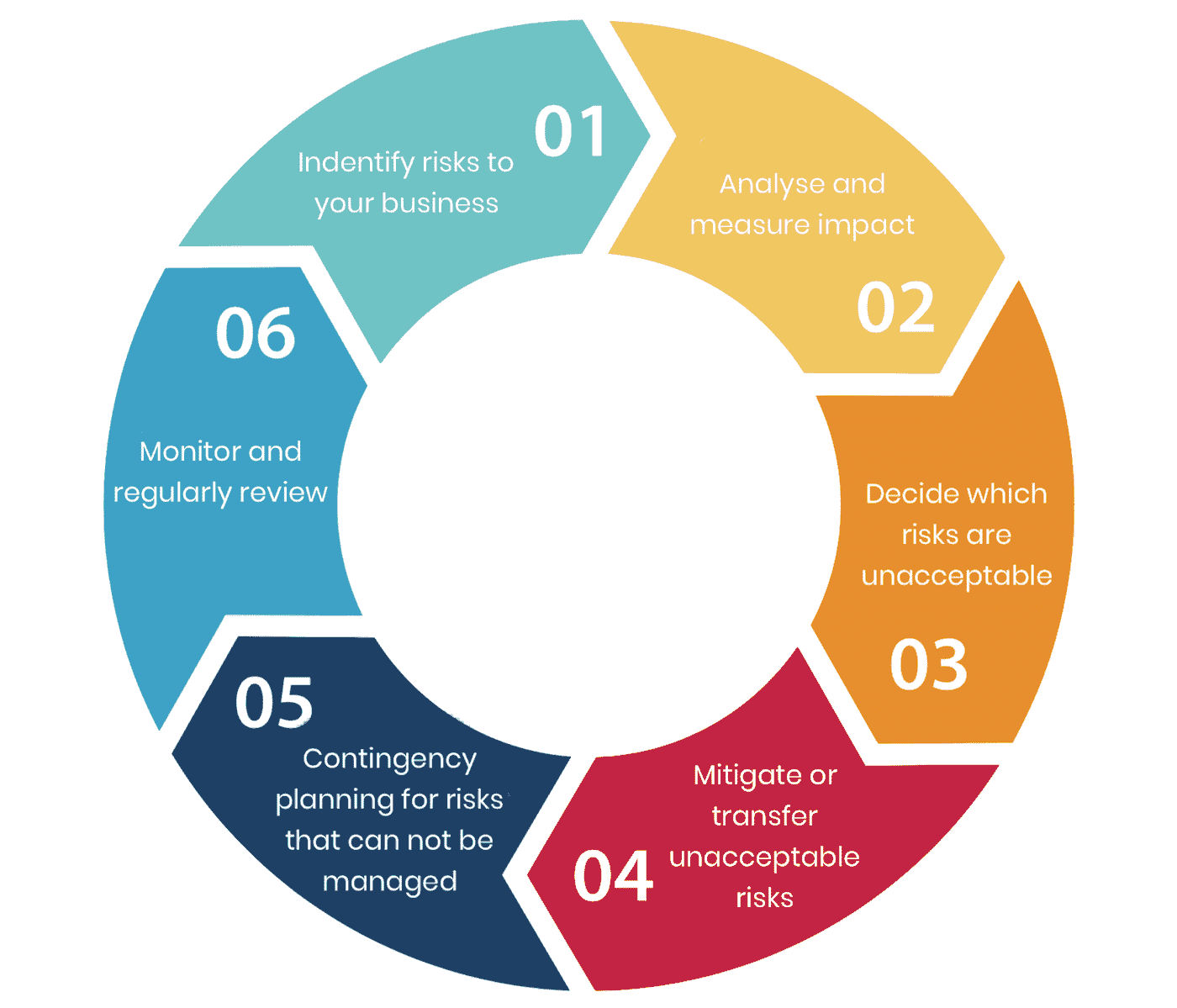 ---
How does a risk management process work?
All risk management processes follow the same principles, that enables your business to manage uncertainty in an effective and systematic way.
>  Identify risks to your business
- Investigate and detail risks that might affect your business or objectives. There are a number of risk management tools available such as
risk assessments
and
risk reviews
 that can assist with identifying & recording risks.
>  Analyse and measure the impact
 - Once risks are identified you can seek to determine the likelihood and consequence of each risk. By evaluating each risk, it is possible to quantify the potential to impact your business or objectives. A
risk register
 is a valuable risk management tool to record and score the potential risks.
>  Decide which risks are unacceptable - Make decisions concerning which risks are unacceptable compared with your risk appetite. Risks that are acceptable should be monitored and reviewed on a regular basis. Whereas risks that are unacceptable should either be avoided, reduced or transferred.
>  Mitigate or transfer any unacceptable risks
 - Risks that cannot be avoided should either be reduced or transferred to an acceptable risk tolerance level for the business. Consider ways to mitigate the exposure including the use of
business insurance
to transfer unacceptable risks.
>  Contingency planning - Should be considered for risks that cannot be managed. If your initial plan to control the risk fails, what is your plan B? For example, in the event of a cyber breach, what are the steps to effectively respond and mitigate the impact after the incident has occurred?
>  Monitor and review regularly - Continually monitor, review and report on risks to your business and objectives. The risk management process does not finish once the risks have been identified, analysed and controlled. Your business and its objectives will continue to be exposed to new and emerging risks.
---
Why is risk appetite important?
Identifying your risk appetite is an important step in the risk management process and will also assist with strategic and operational decision making.
Risk appetite goes to the centre of the organisation and will impact how your business deals with customers, employees, regulators and shareholders.
When risk appetite is clearly understood and communicated, it becomes a powerful tool not only for managing risk but improving performance. 
An effective risk management process can protect your organisation against financial shocks, improve decision making and optimise operational efficiency. 
The Institute of Risk Management
(IRM) is the leading body for professional enterprise risk management and have produced an insightful paper on 
Risk Appetite & Tolerance
.
---
Why risk transfer is important?
When risks that have the potential to cause a significant financial impact but the chance of occurring is low, they are best transferred from your balance sheet.
Without business insurance, companies would be required to maintain increased capital reserves to protect against unforeseen events. The pooling of insurance premium therefore provides an effective means to spread the cost and reduce the financial impact.
Other risk transfer mechanisms can include, indemnification agreements, sometimes referred to as hold-harmless agreements, used to transfer risk of loss, damage or liability via a contract from one party to another.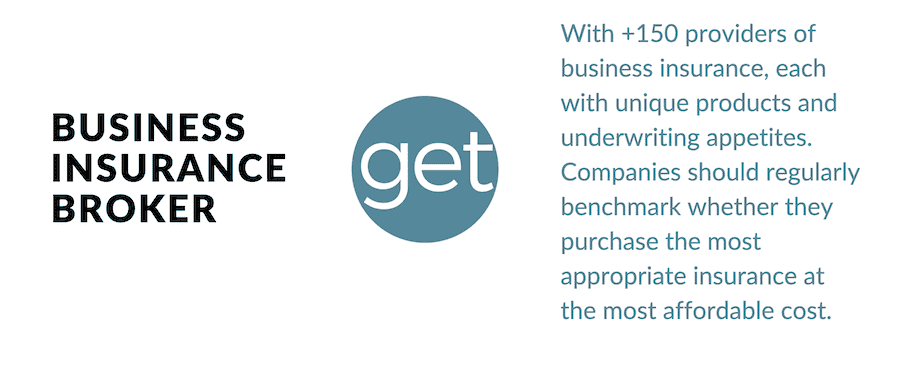 To compare
business insurance
quotes from the wholesale market complete our
online application
.
---
The below are commonly used risk management tools to monitor and report on risks within your organisation:
Risk Assessments - Are completed per activity, with the aim to identify hazards and risk factors that have the potential to cause a harm and evaluate the risk associated with that hazard.
Risk Reviews - Are completed with a view across the entire company, with the aim to determine appropriate ways to eliminate the hazard or control the risk when the hazard cannot be eliminated.
Risk Register - Identifies key areas of risk in terms of potential frequency and impact, highlights issues that require attention and allocates responsibility. Once the risks have been identified, a simple spreadsheet with a basic scoring mechanism can serve as a risk register.
Business Continuity Planning - Will consider the major risks your company and identify both short and long-term solutions to mitigate the impact. A business continuity plan will be specific to your organisation and identify responsibility with a crisis management hierarchy should an incident occur.
---
What risk management services can you offer?
We work with a number of risk management partners that are experts within their speciality and can offer a range of services:
Process reviews - A comprehensive review of the risk management plan and process can offer an independent review of your ability to accurately identify, measure and control risk. Reviews can be carried out at a single location or across different locations of your business to identify any inconsistencies that might increase risk levels.
Management reviews - An independent review of the board, management structure, risk management strategy, and the individual skills and behaviours of the management team, can provide a valuable insight. Findings can be reported to identify solutions for optimising structures, practices and resources.
Claims reviews - A comprehensive review of large losses and claims histories can identify a range of preventative measures to reduce the risk of incidents reoccurring. An independent review will often be able to report a range of solutions that combine risk management with your business insurance.
Learning reviews - Key learning issues can be identified to ensure your organisation can deliver on its risk management strategy. Findings can be reported to identify any structural, process and behavioural changes required. New strategies can be developed to ensure risk management is embedded within your organisational culture.
Please
contact us
to discuss your individual requirements and see how we can support and improve your risk management planning and processes.

---
This guide is for information purposes and based on sources which we believe are reliable, the general risk management and insurance information is not intended to be taken as advice with respect to any individual circumstance and cannot be relied upon as such.