---
How to obtain directors and officers insurance for your company?
If your company has a positive net worth (assets are greater than liabilities) and made a profit in your latest reporting period, at get indemnity™ D&O insurance starts from £345 annually or £28.75 monthly for a £1 million limit. 
If your company has been trading for less than 12 months, cover is still available, but insurers will want to apply an insolvency exclusion to your terms which means if your business fails there will be no cover available for the directors of the business.
For companies that have been trading for less than two years or have a negative net worth, additional information such as a business plan, financial projections or evidence of capital may be required to obtain director's liability insurance.

---
Can you provide some D&O insurance claim examples?
Civil, regulatory or even criminal allegations can be very costly and time consuming to defend. A D&O policy offers protection from a variety of sources, including customers, competitors, regulators, administrators, creditors, shareholders and employees. 
It's worth remembering that individuals can be held jointly liable for the actions of others. Therefore, an error on the part of one individual can have financial consequences for the others, even though they had no knowledge of the wrongdoing. 
Directors and officer's insurance claims can arise from a variety of circumstances, including but not limited to:
|   |   |   |
| --- | --- | --- |
| Breach of law | Breach of regulation | Insolvency claims |
| Creditor claims | Employment practice claims (against D&O's) | Decisions exceeding authority |
| Competitor claims | Inaccurate or inadequate disclosure | Shareholder claims |
| Reporting errors | Mergers and acquisitions | Claims made on behalf of the company |
How do directors and officers insurance policies work?
Directors and officer's policies are difficult to navigate and understand, utilising the services of a specialist D&O insurance broker will make the process of purchasing and claiming on your insurance simple.
If there's an allegation that names you individually, you want to make sure you have adequate cover available under a D&O policy which will allow for a good legal defense to protect your interests.
Whether you are a startup or an established business compare directors and officer's insurance by giving us a call on
0345 625 0711
or
arranging a call back
at a convenient time to discuss your specific requirements.
---
Directors and officers insurance definitions
Directors and officer's policies will typically have three insuring clauses, Side A (insured persons), Side B (company reimbursement) and Side C (corporate legal liability or entity cover).
'Side A' offers personal protection to the insured persons and will respond when the company is unable, unwilling or not permitted by law to indemnify its directors and officers. A common example occurs when the company goes into administration.
'Side B' offers reimbursement to the company for costs and expenses incurred to defend an action made against an insured person. Directors may or may not have an indemnification agreement in place with the company.
'Side C' offers protection to the company in its own right, as distinct from the liability of its directors and officers. Private companies obtain much broader entity coverage under Side C compared with public companies, which limits cover for securities claims.
It's worth noting there is typically no deductible applied to Side A, whereas Side B and C will incur a deductible to the amount agreed on the D&O Schedule. It's worth noting if you are seeking to list on an exchange, specialist IPO Insurance will need to be considered separately.
Directors and officer's insurance definitions, insuring clauses and exclusions vary between different products, therefore it's worth considering the terms and conditions with an experienced insurance broker.
---
How much directors and officers insurance do you need?
The amount of D&O cover you decide to purchase will depend on your perception of the exposure and how much you are prepared to spend to mitigate the risk.
We recommend you consider more than one option to appreciate the cost to increase your limit of liability. It is also worth considering that defence costs on average amount to 65% of the total cost of D&O insurance claims.
The below guide is based on what companies typically purchase in our experience. However, you should consider your individual circumstances and note the limits below may not be sufficient to cover your defense costs and damages.

Have you undergone a capital raising?
If you've raised capital to fund your operations and you are still early stage, you should take into consideration your asset size and not your turnover, when deciding on how much directors and officers insurance to purchase.
Discuss your requirements with one of our Account Executives by calling 0345 625 0711 and compare insurance quotes from the wholesale market. Alternativelty request a call back a convenient time to discuss your needs.
Start-ups and early stage companies are exposed to claims made by their investors. It is common practice that a condition of any capital raising is the directors are require to purchase insurance protection.
---
Financial support and legal defence
The financial support provided under a D&O policy to company directors not only ensures a quality legal defence but also helps to reduce the disruption, allowing them to focus on the needs of the business.
Without established legal and HR teams, defending a claim or dealing with a regulator's investigation, can be complicated and time consuming. D&O insurance offers company director's valuable access to legal support and specialist services to assist mitigate the damage of any allegation.
Company directors will commonly purchase director's liability cover under a
management liability insurance
policy for small to medium sized companies. This is a package policy designed for private companies that may include additional covers.
Cover may provide additional protection under corporate legal liability, employment practices liability and commercial crime insurance.
---
How directors and officers insurance cost is calculated?
Each insurer will take their own view, but the size of your company and industry will have a direct impact on how your directors and officer's insurance cost is calculated.
The most important consideration for insurers is your financial standing and operational history. If you maintain profitability with a positive balance sheet, you will more likely obtain favourable D&O insurance terms.
Directors and officer's insurers will more often than not, review your latest reported accounts to consider your likelihood of failure. The below identifies different industry segments and their relative exposure to D&O liability claims: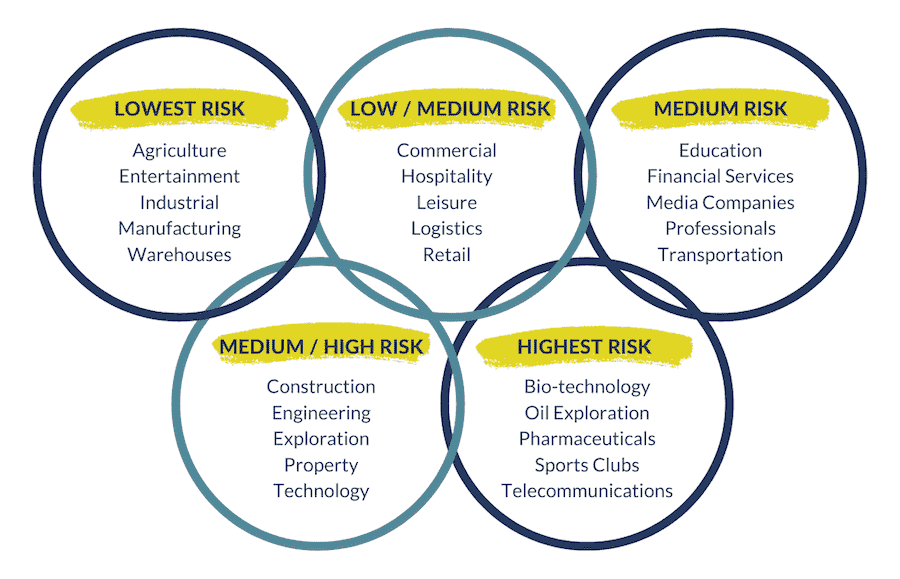 Director's liability and overseas litigation
The scope of your activities within different jurisdictions (UK, USA, Canada, Europe and Rest of the World) is an important consideration for directors and officer's insurers.
The USA remains the most litigious country in the world, operating subsidiaries in this territory can significantly impact your company's D&O exposure.
---
Why some companies go without directors and officers insurance? 
At get indemnity™ we have seen many objections over the years for the need to buy D&O insurance, below we've sought to clarrify some misunderstandings:

1)    The company is a separate legal entity, therefore any awards made by the courts are limited to the company share capital.
A number of statutes exist to make company directors responsible for their actions on behalf of corporate bodies. While the company has limited liability, courts have the power to make awards against your personal assets with unlimited liability.
2)    As company directors we hold the majority of shares, therefore the duties we owe to the legal entity are a technicality.
The shareholders may decide not to hold the company directors to account for their actions, however employees, customers, regulators and third parties potentially can. Alternatively, if the company was entering administration, or the company was sold to a third party, they could seek to enforce the legal rights of the corporate entity.
3)    As a company director I can't be held accountable for the actions of others, if I don't have any knowledge of the wrongdoing.
A number of statutes exist to make directors responsible, negligent failure to prevent, or neglect can mean there is no requirement for knowledge, merely the failure for the individual to act.
4)    The company will protect me against any legal disputes or regulatory investigations whilst acting as a director.
As directors, you may have an indemnification agreement in place (most company directors don't), however have you considered what would happen if: 1) the company was unable to fund your defence; 2) your interests and the company's interests were not aligned; or 3) you left the company and were held accountable for historic actions?
5)    Only public companies purchase D&O Insurance because they're exposed to litigation and regulatory investigations. 
The largest single cause of D&O insurance claims is insolvency, therefore SMEs that are financially unstable have a higher-than-average exposure to claims. Whereas a regulators decision to undertake an investigation or issue a fine will be governed by your compliance, no matter your size.
6)    Health and safety matters are the responsibility of the company rather than of individual company directors or managers. 
If a company commits a health and safety offence with the knowledge of a person with significant control, or the offence is attributable to their neglect, they can be prosecuted individually under the Health and Safety at Work Act. To obtain your directors and officer's insurance quotes please give us a call on 0345 625 0711.
---
Who are the leading directors and officers insurers?
At get indemnity™ we work with a wide range of D&O insurance providers who can potentially meet your requirements. These include but is not limited to: AIG, Allianz, AXA, Beazley, Chubb, CFC, Hiscox, Markel, MPR, Nexus and QBE.
How long your business has been operating, your financial condition, the industry you operate, your size in terms of turnover and total assets, as well as your international exposure and whether you are listed on any exchanges, will impact who will engage with on your behalf.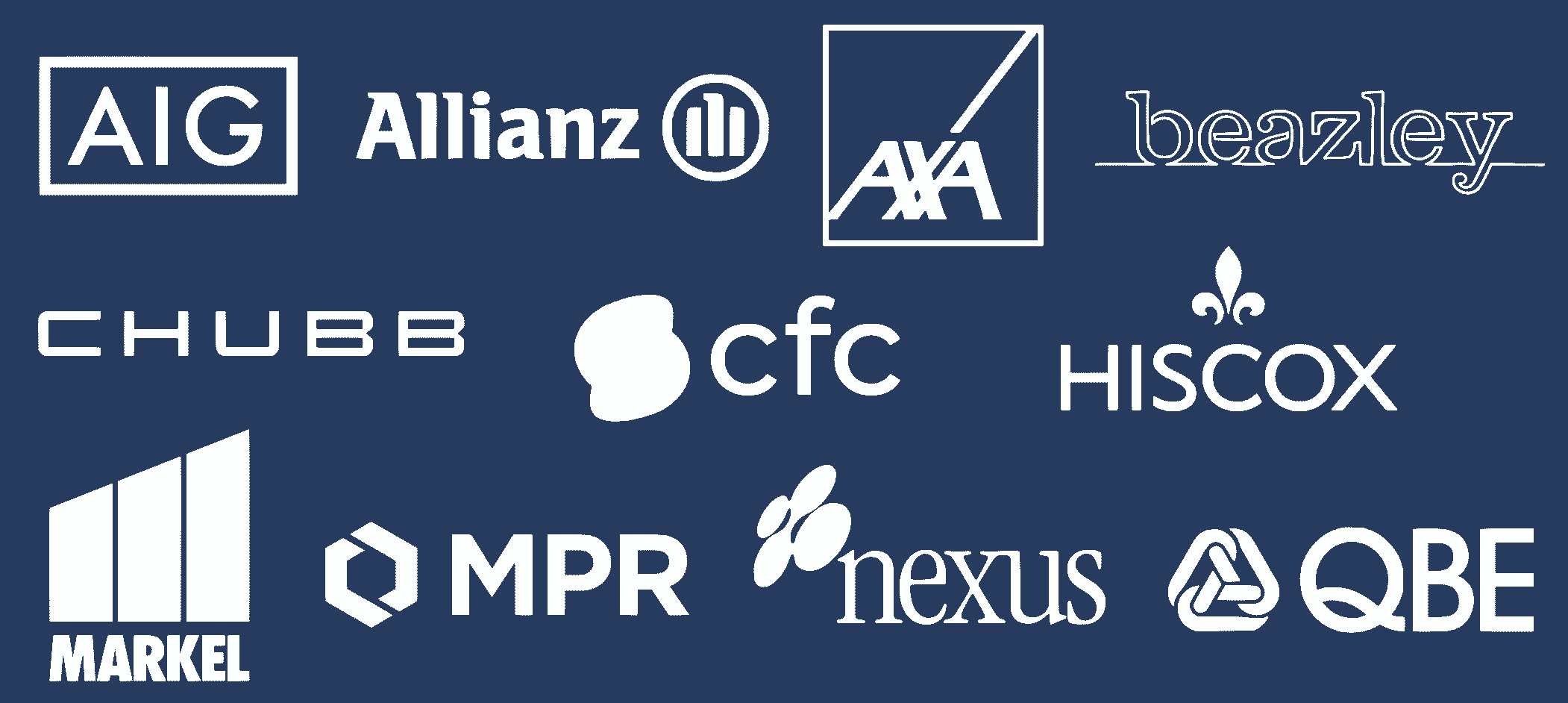 ---
How to compare directors and officers insurance quotes?
At
get indemnity
™ apply for D&O quotes by completing our
digital on-boarding process
and we'll seek to identify competive cover at the most affordable cost from our insurance partners.
At get indemnity™ we're seeing a hardening of the market for directors and officers company insurance, with some insurers seeking increased premiums as a result of Covid-19. However, there remains plenty of competition if you maintain good working capital. 
Understand how an
insurance broker
can assist with obtaining quotes from the wholesale market and ensure your personal assets are protected with director's and officer's insurance.
---
Last updated: 12th November 2021