---
Get indemnity™ D&O insurance
At get indemnity™ D&O insurance quotes start from £345 annually or £28.75 monthly for a £1 million limit. Below we explain how directors and officers insurance can protect your personal interests. To discuss your needs please call us on 0345 625 0711.
At get indemnity™ we're seeing a hardening of the market for directors and officers insurance, with some insurers seeking increased premiums as a result of Covid-19. However, there remains plenty of competition if you maintain good working capital. 
For companies that have been trading for less than two years or have a negative net worth, additional information such as a business plan, financial projections or evidence of capital may be required by D&O insurance underwriters.
---
Why purchase directors and officers insurance?
Directors and officers insurance provides a cost-effective mechanism to protect those individuals in leadership roles should an allegation of a wrongdoing occur.
Civil, regulatory or even criminal allegations can be very costly and time consuming to defend. A D&O insurance policy offers protection from a variety of sources, including customers, competitors, regulators, administrators, creditors, shareholders and employees. 
It's worth remembering that individuals can be held jointly liable for the actions of others. Therefore, an error on the part of one individual can have financial consequences for the others, even though they had no knowledge of the wrongdoing.
---
Who needs directors and officers insurance?
Every incorporated business should consider directors and officers insurance. The law generally seeks to protect individuals from personal liability where they have acted in good faith and complied with their responsibilities.
However, any director, partner or employee acting in a managerial capacity on behalf of the company that fails to meet their legal obligations can be held personally liable. We've produced a useful guide called: Why company directors don't need D&O insurance?
Directors and officers insurance can provide valuable cover for a legal defence and protect the
personal assets
of individuals who take leadership roles in any business. If you operate a non-profit organisation, please see our
trustee indemnity insurance
.

---
How do directors and officers insurance policies work?
Directors and officers insurance policies are difficult to navigate and understand, utilising the services of a specialist D&O insurance broker will make the process of purchasing and claiming on your insurance simple.
We've produced a useful guide to assist with understanding the mechanics of a director's and officer's policy: How does a directors and officers insurance policy work?
If there's an allegation that names you individually, you want to make sure you have adequate cover available under a D&O insurance policy which will allow for a good legal defense to protect your interests.
---
Directors and officers insurance claims examples
Directors and officers insurance claims can arise from a variety of circumstances, including but not limited to:
|   |   |   |
| --- | --- | --- |
| Breach of law | Breach of regulation | Insolvency claims |
| Creditor claims | Employment practice claims (against D&O's) | Decisions exceeding authority |
| Competitor claims | Inaccurate or inadequate disclosure | Shareholder claims |
| Reporting errors | Mergers and acquisitions | Claims made on behalf of the company |
How is directors and officers insurance cost calculated?
Each insurer will take their own view, but the size of your company and industry will have a direct impact on how your directors and officers insurance cost is calculated.
The most important consideration for insurers is your financial standing and operational history. If you maintain profitability with a positive balance sheet, you will more likely obtain favourable terms from the D&O market.
Directors and officers insurance underwriters will more often than not, review your latest reported accounts to consider your likelihood of failure. The below identifies different industry segments and their relative exposure to D&O insurance claims: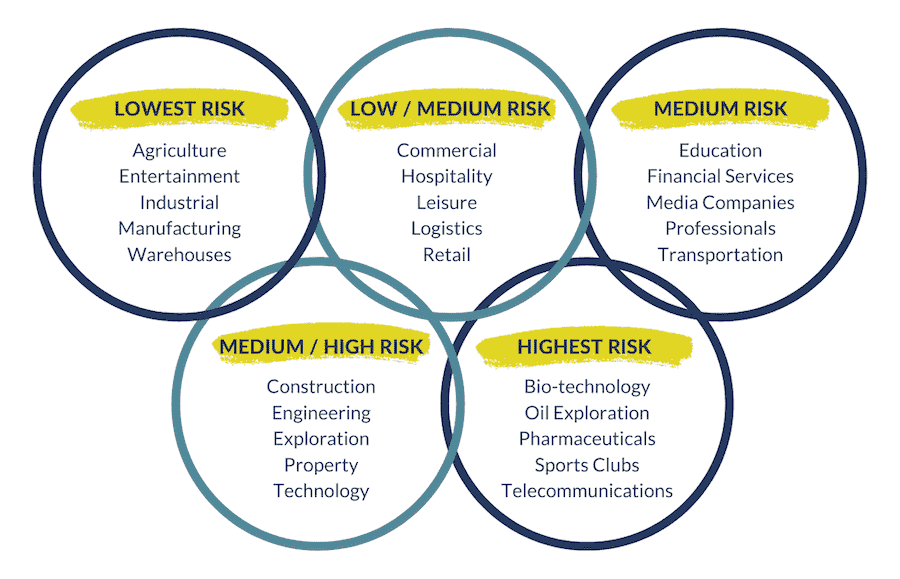 Director's liability and overseas litigation
The scope of your activities within different jurisdictions (UK, USA, Canada, Europe and Rest of the World) is an important consideration for directors and officers insurers.
The USA remains the most litigious country in the world, operating subsidiaries in this territory can significantly impact your company's D&O exposure.
---
Directors and officers insurance definition
Directors and officers insurance policies will typically have three insuring clauses, Side A (insured persons), Side B (company reimbursement) and Side C (corporate legal liability or entity cover).
'Side A' means personal protection to the insured persons and will respond when the company is unable, unwilling or not permitted by law to indemnify its directors and officers. A common example occurs when the company goes into administration.
'Side B' means reimbursement to the company for costs and expenses incurred to defend an action made against an insured person. Directors may or may not have an indemnification agreement in place with the company.
'Side C' means protection to the company in its own right, as distinct from the liability of its directors and officers. Private companies obtain much broader entity coverage under Side C compared with public companies, which limits cover for securities claims.
It's worth noting there is typically no deductible applied to Side A, whereas Side B and C will incur a deductible to the amount agreed on the D&O Schedule. It's worth noting if you are seeking to list on an exchange, specialist IPO Insurance will need to be considered seperately.
Directors and officers insurance definitions, insuring clauses and exclusions vary between different products, therefore it's worth considering the terms and conditions with an experienced insurance broker.
---
How much directors and officers insurance do you need?
The amount of directors and officers insurance you decide to purchase will depend on your perception of the exposure and how much you are prepared to spend to mitigate the risk.
We recommend you consider more than one option to appreciate the cost to increase your limit of liability. It is also worth considering that defence costs on average amount to 65% of the total cost of D&O insurance claims.
The below guide is based on what companies typically purchase in our experience. However, you should consider your individual circumstances and note the limits below may not be sufficient to cover your defense costs and damages.

Have you undergone a capital raising?
If you've raised capital to fund your operations and you are still early stage, you should take into consideration your asset size and not your turnover, when deciding on how much directors and officers insurance to purchase.
---
Leading directors and officers insurance providers
At get indemnity™ we work with a wide range of D&O insurer providers to ensure our clients can obtain the best protection available at the most affordable cost. 
Leading D&O insurance providers include: AIG, Allianz, AXA, Beazley, CFC, Chubb, Hiscox, Markel, MPR, Nexus, and QBE.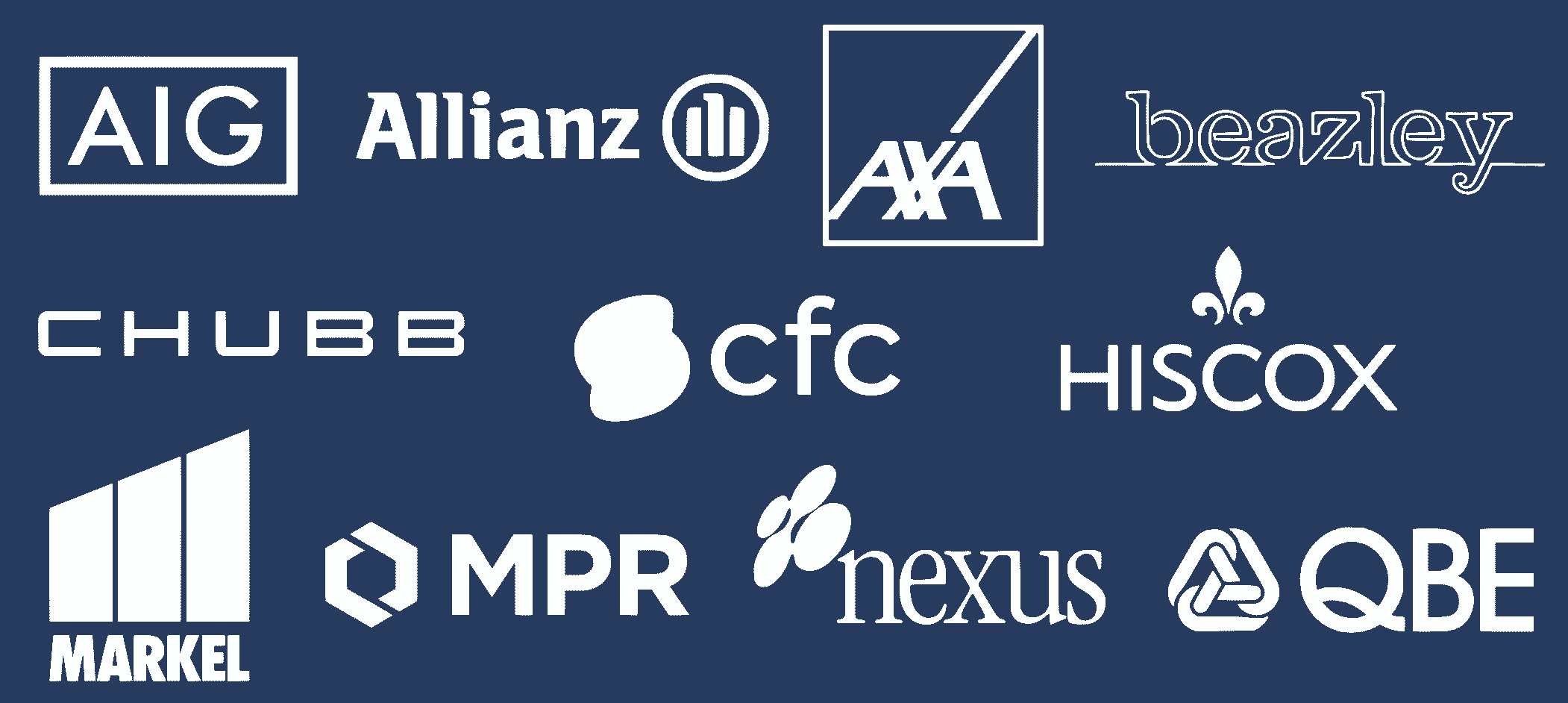 ---
How to compare directors and officers insurance quotes?
At
get indemnity
™
we are a specialist D&O
insurance broker
and have the capacity to identify a range of solutions available from the wholesale market.
If your business is perceived as carrying a high hazard exposure, your director's and officer's insurance broker should engage with you early to ensure sufficient strategic planning for a successful renewal.
To ensure your personal assets are protected, complete our
online application
and apply for
management liability insurance
.

---
This guide is for information purposes and based on sources which we believe are reliable, the general risk management and insurance information is not intended to be taken as advice with respect to any individual circumstance and cannot be relied upon as such.