---
What is directors and officers insurance?
Directors and officers Insurance (otherwise known as D&O Insurance) offers financial protection for individuals against civil, criminal and regulatory proceedings, while acting in a managerial capacity on behalf of the company.
The cover is typically offered under a management liability package policy, unless the business has over £100m turnover or is publicly listed on an exchange.
The
business insurance
will pay legal costs incurred in defending allegations and damages arising from any judgment, award or settlement.
---
Who needs directors and officers insurance?
The law generally seeks to protect individuals from personal liability where they have acted in good faith and complied with their responsibilities.
However, any director, partner or employee acting in a managerial capacity on behalf of the company that fails to meet their legal obligations can be held personally liable.
Directors and officers insurance can provide valuable cover for a legal defence and protect the
personal assets
of individuals who take leadership roles in any business. If you operate a non-profit organisation, please see our
trustee indemnity insurance
.

---
Why purchase directors and officers insurance?
Directors and officers insurance cover provides a cost-effective mechanism to protect those individuals in leadership roles should an allegation of a wrongdoing occur.
Civil, regulatory and criminal allegations made against individuals can cause significant distress, as well as being very costly and time consuming. Allegations of wrongdoing can arise from a variety of sources, including customers, competitors, regulators, administrators, creditors, shareholders and employees. 
It is worth remembering that individuals can be held jointly liable for the actions of others. Therefore, an error on the part of one individual can have financial consequences for the others, even though they had no knowledge of the wrongdoing.
For further information please read: Why company directors don't need D&O insurance?
---
What are directors duties and responsibilities?
Directors duties and responsibilities is a broad topic and beyond the scope of this guide, however their general duties can be found under the Companies Act 2006.
A detailed guide produced by the
ICAEW
 offers a further insight of directors duties and responsibilities for private companies.
Allianz have produced a guide identifying D&O Legislative and Regulatory Risks, which provides an insight into the scope of legislation that can hold directors personally liable.
---
Directors and officers insurance claim examples
Directors and officers insurance claims can arise from a variety of circumstances, including but not limited to:
|   |   |   |
| --- | --- | --- |
| Breach of law | Breach of regulation | Insolvency claims |
| Creditor claims | Employment practice claims (against D&O's) | Decisions exceeding authority |
| Competitor claims | Inaccurate or inadequate disclosure | Shareholder claims |
| Reporting errors | Mergers and acquisitions | Claims made on behalf of the company |
What are the current D&O claim trends?
Experience indicates a strong correlation between increased D&O claims activity and company insolvency. Downstream claims can arise from a variety of sources in an attempt to apportion blame. AIGs
SME D&O Claims Report
 identifies key drivers for D&O claims.
Investigations and prosecutions by the Health and Safety Executive were also highlighted as a frequent source of D&O claims. AIG in 2017 saw more HSE fines +£1m than in the previous 20 years put together, as a result of changes to how fines are applied.
Cyber crime is another area of growing concern. In the event of a cyber attack, greater scrutiny is being placed on the directors to discharge their obligations to shareholders and their customers.
---
Who is covered under D&O insurance?
Typically, all directors and officers of a company and its subsidiaries are covered under a D&O policy, whether current, future and past. The definition of Insured Person will also typically extend to employees whilst acting in a managerial capacity.
Cover is typically afforded to any lawful spouse, estate, heirs, if named as co-defendant in circumstances where allegations are made against a person who is deceased, insolvent, or bankrupt.
---
How is fraudulent, dishonest or criminal D&O's conduct dealt with?
It is important to note cover for fraudulent, dishonest or criminal conduct, in addition to gaining an illegal profit, is not insurable.
Typically, an insurer will require a final adjudication from a formal authority (i.e. a court of law) or admission of guilt from the offending individual. As a general rule, the insurer will defend the individual on the basis they are innocent until proven guilty.
Innocent directors will remain fully covered if they are co-defendants, even if the acts of their colleagues were fraudulent or dishonest.
---
How do insurers underwrite your D&O insurance?
The size of your company will have a direct impact on how your directors and officers insurance premium is calculated. Insurers will use different metrics (either turnover or total assets) to measure a base rate per million of limit of liability purchased.
The most important consideration for insurers is your financial standing and operational history. If you maintain a strong revenue and net profitability with a conservatively leveraged balance sheet, you will more likely obtain favourable terms.
Underwriters will more often than not, review your latest reported financial statements from Companies House to consider any negative trends and your likelihood of failure.
The nature of your activities is the second most important underwriting consideration. The below identifies our view of different industry segments and their relative exposure to claim activity.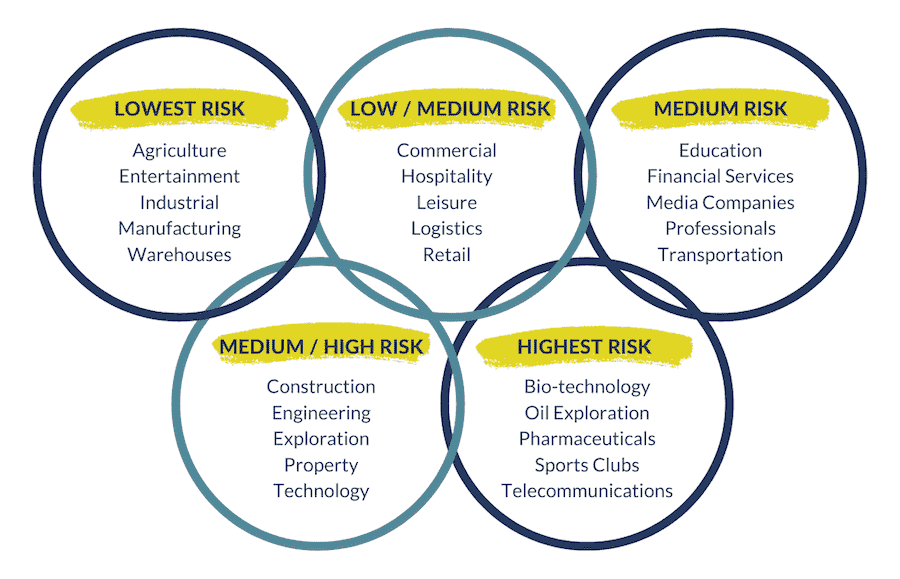 In addition, the scope of your activities within different jurisdictions (UK, USA, Canada, Europe and Rest of the World) is an important consideration for insurers.
The USA remains the most litigious country in the world, operating subsidiaries in this territory can significantly impact your company's exposure.
---
How much D&O insurance should you purchase?
The limit of liability you purchase will depend on your perception of the exposure and how much you are prepared to spend to mitigate the risk.
We recommend you consider more than one option to appreciate the cost to increase your limit of liability. It is also worth considering that defence costs on average amount to 65% of the total cost of D&O claims.
The below offers a general guide based on what companies typically purchase, however you should consider your individual circumstances and note the limits below may not be sufficient to cover your financial loss and defense costs.

If you've raised capital to fund your operations and you are still early stage, you should take into consideration your asset size and not your turnover, when deciding on how much D&O insurance to purchase.
---
How do D&O insurance policy limits apply?
The policy limit of liability is shared amongst the directors and officers who will receive the same treatment in the event of a claim. Your policy limits will operate either on an:
aggregate basis, which means the amount insured under the policy is a maximum for the entire policy period, no matter how many claims are made; or
any one claim basis, which means the amount insured under the policy applies to each and every claim (or importantly a series of claims arising from any single event).
Some insurers will offer reinstatements of limits on an aggregate basis, which means if the limit of liability has been eroded by a claim, the limit of liability will then be reinstated and made available for unrelated claims.
---
How does a D&O policy work?
A company may indemnify its directors in respect of legal proceedings under a written agreement. If there is an agreement in place, there will be circumstances which the company will be unable (i.e. insolvency) or permitted (i.e. restricted by law) to meet its obligations.
Directors and officers insurance policies have therefore been designed to respond to the different circumstances, offering to either pay on behalf of:
> the director (called Side A); or
> reimburse the company after it has indemnified the director (called Side B).
It is worth noting that most policies will not maintain a deductible for Side A, however, will maintain a deductible for Side B.
If you would like a better understanding of liability principles, such as duty to defend or indemnification, please visit
liability insurance
.
---
What is an extended reporting period?
An extended reporting period, also known as run-off cover, allows claims to be reported to the insurer after the policy has expired. Ensuring you are protected from wrongful acts that may have already been committed but haven't received any claims made against you.
The policy will typically define the length of the extended reporting period available and periods typically up to six years can be requested, usually calculated as a percentage of the premium paid for the policy.
It is worth noting the extended reporting period does not have its own limit of liability, but instead is an extension of the limit of liability in place immediately prior to the election.
---
What is a change in control provision?
What happens under the directors and officers insurance policy if the company merges or is acquired?
Typically, D&O policies include a change in control provision. If the company is merged or acquired, the policy will stay in force for the remainder of the policy period, but only for claims based for wrongful acts before the change of control goes into effect.
Policies will typically include an option to purchase an extended reporting period and this should be considered because a change in control increases the potential for future legal disputes.
---
What is public offering securities insurance?
Public offering securities insurance (POSI) is a specialist product which can be purchased in conjunction with D&O insurance in the event the company raises equity or debt from third party investors.
The significant exposure arises from any disclosures made by individuals on behalf of the company in any prospectus or offering documentation when raising capital.
A standalone public offering securities insurance (POSI) policy will ring fence the exposure from investors and provide protection for the directors with a policy period that typically lasts six years.
---
D&O insurance market conditions
We are starting to see a hardening of the market for directors & officers insurance, with some insurers seeking increased premiums as a result of Covid-19. However, there remains plenty of competition if you maintain good working capital. 
If your business is perceived as carrying a low to medium hazard exposure (typically viewed as being financially stable, less than £100m in turnover and not operating in high risk industry class) competition remains.
For companies that have been trading for less than two years or have a negative net worth, additional information such as a business plan, financial projections or evidence of additional capital, may be required by D&O insurance underwriters.
If your business is perceived as carrying a high hazard exposure or you have recent claims activity, your D&O insurance broker should engage with you early in the renewal process to ensure sufficient strategic planning.
---
How to obtain directors and officers insurance quotes?
At
get indemnity
we are a specialist D&O
insurance broker
and have the capacity to identify a range of solutions available from the wholesale market.
To ensure your personal assets are protected, please complete our online application and apply for management liability to obtain your directors and officers insurance quotes.

---
This guide is for information purposes and based on sources which we believe are reliable, the general risk management and insurance information is not intended to be taken as advice with respect to any individual circumstance and cannot be relied upon as such.